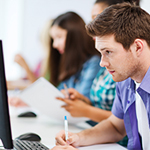 Published August 2015
At least once in every decade, the Uniform CPA Examination (CPA Exam) changes. In 2004, the first computerized CPA Exam was administered. Then, in 2011, the exam changed significantly again.
Why the Changes?
The CPA Exam is considered the entrance exam for the public accountant profession. Passing the CPA Exam is required in every regulatory jurisdiction, along with varying education and experience requirements. Candidates who pass the CPA Exam are considered to have demonstrated the necessary skills and knowledge required to be successful as newly-licensed CPAs.
The American Institute of Public Accountants (AICPA) writes and scores the CPA Exam. To keep the examination relevant and suitable for its intended purpose, the AICPA conducts a periodic study, known as the practice analysis, of the industry to determine the required skills and knowledge to be successful as a CPA. The results of the study determine required changes to the exam.
What Should We Expect Next?
In 2017, the results of the most recent practice analysis will be implemented into the new CPA Exam. The AICPA has not revealed the exact changes to the exam. To learn more about this project and the timelines for each stage in the project, bookmark the "Next CPA Exam" website, published and kept current by the AICPA (http://www.aicpa.org/BecomeACPA/CPAExam/nextexam/Pages/next-cpa-exam.aspx). Be sure to check it regularly.
Should I Test Now or Wait?
The decision of when to take the CPA Exam should be based on when you are eligible, not on upcoming changes to the exam. You should always, if possible, take the exam as soon as you are eligible. You may find that career opportunities grow exponentially once you have passed the CPA Exam.* Start today by deciding the state in which you want to become licensed. Because each state may have slightly different education and experience requirements, it is a good idea to consider and research several states by comparing the state eligibility requirements. Often, the education requirements to sit for the exam are less than the education requirements to be licensed, allowing a candidate to sit for the exam earlier in the process. Visit the National Association of State Boards of Accountancy website (http://nasba.org/stateboards/) to learn more about each state's requirements.
Good luck on the CPA Exam! The work is hard, but the payoff is worth it.
Denise C. Probert, CPA, CGMA is a faculty member at Purdue Global. The views expressed in this article are solely those of the author and do not represent the view of Purdue Global.
*Purdue Global cannot guarantee employment or career advancement.