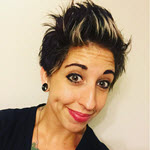 Moriah Slade is one busy go-getter. She is an entrepreneur, business owner, sous chef, substitute teacher, and single mom.
She is also a proud graduate of Purdue Global.
Moriah lives and works in Sioux Falls, South Dakota. She earned her bachelor's degree in allied health from the University of South Dakota in 2012 before enrolling at Purdue Global in 2013 to pursue a Master of Public Health.
"Purdue Global allowed me to be a busy single mom, work full time, and still be able to pursue my dream of having a better education and creating a better life for myself and my two sons. I was determined to not stop school until I reached the master's level. I wanted to show myself and my boys that, if you put your mind to something, you can accomplish great things. Purdue Global was amazing in working with me both in person and in the way they have created an online education atmosphere that challenges!"
Moriah graduated from Purdue Global in 2015.
"Since graduation, I have started one business, sold a portion of that business, and created another company."
Today, she is the owner and creative director for a catering and event company that provides everything from family meals to gluten-free menus for a variety of events like business meetings and weddings.
"We have made an incredible impact in the community since opening in June 2015. Our growth continues to exceed my expectations. I would not have had nearly as clear a vision of what my passions are, or had the contacts in my community to start and successfully maintain my business, without the classes I took and the internship that was necessary to complete my degree. Every day is getting up with excitement at the prospect of working, instead of dreading every day."
Moriah is also doing health and fitness coaching as well.
Going to school while working full time and raising her boys was not easy. "Time was a huge issue. I was a single, full-time working mom, with two boys under the age of 4, and life was chaotic. Exhaustion, money, time, and stress from everyday life was a challenge, but I was able to develop relationships with my professors and ask for help when I needed it, or do work at 2:00 am."
Moriah is a self-confessed planner, and Kaplan's University's online format helped her keep it all together and stay on track. "It helped to have lists every day of what I needed to accomplish. It gave me peace of mind knowing that I didn't have to remember every detail because it was already written down. And, if I planned my day, then during my free time I didn't feel like I was forgetting something, or getting behind, because I knew my tasks were accounted for. That was so important."
Moriah loved her time at Purdue Global. "I was able to create and develop my passions. The variety of classes and the internship allowed me to experience different parts of my field, and really hone in on what made me tick, and what I could get up every day to do, and not feel like I was working."
Her advice to others who are considering attending Purdue Global is short and to the point: "Kaplan University is amazing! You get what you put into it, so do it!"
Purdue Global cannot guarantee employment or career advancement.