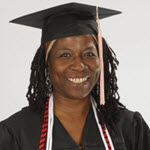 At 50 years old, Michele McQueen was tired of going from job to job. She wanted a stable career—something she would be passionate about.
Michele graduated high school in 1980 and had her daughter 2 years later. "Life just kind of stepped in," she admits. "I had to take care of her. She now has two degrees, and she says, 'Mom, okay, what are you going to do with your life?'"
After that conversation, Michele thought, "I knew I wanted to have a career, something that I would enjoy for life. Not something that I just had to do to survive. Now, Kaplan has brought that all together for me."
She enrolled with Kaplan University (now Purdue Global) in 2012.
"Essentially, the University chose me. They worked with me for financial purposes, and then they told me to apply for the scholarship, and why I would best benefit from that scholarship. I won the scholarship, they accepted me, and I have a degree today because of the University."
Michele was impressed with all the support she received, especially from her Career Specialist, Raylene.
"I love my Career Specialist. Raylene and I always have constant contact. We still try to stay in touch with each other. Raylene has been such a great help to me. She's been my backbone the whole way through. She checks on me. She emails me. She was sending me jobs that were available and where to apply. She's been awesome."
Michele graduated in September 2015 with an associate's degree in medical office management.
Michele's degree helped her advance in her career. She is now an office manager.
"My career is all because of going to the University. It has been the stepping stone all the way through to my career. It's been an awesome journey."
Purdue Global cannot guarantee employment or career advancement.

This testimonial was obtained by Purdue University Global. Purdue University acquired Kaplan University in March 2018 and created Purdue University Global, which is following the same curriculum format and instructional delivery methods as developed and used by Kaplan University. The views and opinions expressed are those of the individual; student experiences may vary.