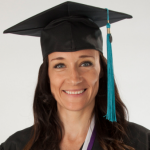 Megan Lehman was at a crossroad. "I was a personal assistant. I worked for an older gentleman in the Pacific Palisades in California, and he's about 88. I realized, 'This isn't going to last forever.' I'm 35, and I just didn't know what I wanted to really do with my life."

She had a number of different jobs over the years. She wanted something else—a career.

"I had been doing a lot of different things. I had been a nanny. I had been an actress. I had worked various jobs, and I wanted to do something that would have some longevity, that would have a 401K or a retirement package."

An impromptu conversation over a cup of coffee at a local shop changed everything.

"I always wanted to be a police officer since I was really young, and I guess I just kind of put it on the wayside because I was interested in so many different things," Megan explained. "I was in a coffee shop. I ran into a Beverly Hills police officer. It was right near my neighborhood, and I was talking to him about wanting to be a police officer at one point. He said, 'Why don't you?' 'Well, I think I'm too old,' I said.

The police officer told her that he was her age when he started. They continued to talk. In order to join his department, he advised Megan, she would need an associate's degree.

"I started researching schools and found Kaplan [University], and decided that I'm going to go back to school for my criminal justice degree."

She decided to enroll at Purdue Global.

"I knew that it was an accredited school. That was the most important, obviously, because I don't want to have a degree that they actually can't accept when I decide that I actually want to apply. They seemed like they had a really good program, and criminal justice was one of the bigger programs there."

It was also something she could do while continuing to work.

"It was something that I could do online—which was awesome for me, because I have such a busy schedule that it really helped me out, that I could do it kind of part-time, and on the weekends. I was a personal assistant during the day, and then I would take my classes at night and do most of my homework over the weekend."

Megan really enjoyed how interactive the classes were.

"I liked having the online seminars. I needed to be talking to the teacher and the teacher to explain things. I liked how interactive it was. As opposed to taking a regular school that you'd be a campus school, you actually had the opportunity to interact because you're on discussion boards throughout the week, so it definitely kept you engaged. It was a really great program."

Megan graduated with an associate's degree in criminal justice in 2016 from Purdue Global. She is working with a personal trainer to prepare for applying to become a police officer in Southern California.

"For a person like me who just really had a hard time focusing on school in general, it ended up working out really well for me because I wanted it. I think it's different in high school when you're just made to do it than when you are going for something that you want, and that's what I wanted."
Purdue Global cannot guarantee employment or career advancement. Local, state, and federal law enforcement jobs may require additional training or education beyond the associate's level. Some positions require a 4-year bachelor's degree and/or additional state-approved higher education beyond Purdue Global's degree. You should fully research the requirements of any such position you intend to seek prior to enrolling in your program.

Click here for additional information about institutional and programmatic accreditation.