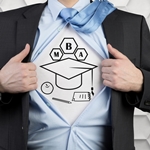 When you envision your career path, do you anticipate advancing through the corporate ranks, or do you picture yourself managing your own business? For those of us who are achievement-oriented and anticipate growing in our business responsibilities and potential rewards over time, we owe it to ourselves to steal of moment from our busy schedules and envision our ideal paths, as well as the potential risks and rewards involved.
Whether you are inclined towards a career path within an established organization, or you have a more independent outlook and a certain itch to start your own business, arming yourself with a Master of Business Administration (MBA) is worth considering.
For evidence that MBAs are valuable in the context of pursuing management and executive roles within established organizations, we need look no further than the career section of these organizations. Depending upon your field, an increasing number of companies list an MBA as either a "desired" or "required" credential for consideration for many advanced sales management, marketing, and executive-level positions.
For those of us who aspire to start our own business rather than work as a team member within a larger organization, an MBA may be an equally advantageous asset to acquire.
Through an MBA program, potential small business owners can:
1. Expand perspective on business functions
Although there are many exceptions, the majority of professionals spend most of their early careers focused on one, or possibly two, functional areas within a business operation. For example, if you entered the workforce after college with a general business or liberal arts degree, you may have now spent 5, 10, or even 15 years in a sales or business development role. An MBA will allow you to learn more about marketing, finance, and operations, for example.
2. Apply relevant tools to starting your own business
If you want to start your own business, then chances are that you will be wearing many hats. Even before launch, you will need to understand basic concepts of marketing and finance, for example. Whether you are deliberating over your competitive position utilizing Porter's Five Forces as a guide, or building financial projections using pro-forma income statements and balance sheets, you will undoubtedly benefit from knowing the relevant business concepts to leverage. Without exposure to these relevant concepts, you are may overlook important fundamental business concepts that could eventually derail your small business plans. Case studies are one of the best ways to simulate real word business challenges with fundamental concepts that are taught in a strong graduate business program.
3. Gain insight from other students and faculty
When you engage in a graduate business program, you are also expanding your business network to include an equally forward-thinking group of professionals. As you refine your concept for a start-up business, other students and faculty can provide valuable feedback on your ideas, and can also be a reality check regarding the viability of your concept. Who knows, your fellow student may turn out to be the business partner who complements your skills and background, or your finance professor may serve as one of your board members. Board members, by the way, can serve as an important check and balance for the soundness of your business decisions, and can also be instrumental in terms of business insight, networking, and even access to funding capital.
4. Connect through alumni networks
As you consider an MBA, think about the professional networks that graduate school can open to you. The tightest relationships are formed in the classroom, in study-groups, or over late night video conferencing with your study group. Also, there is the larger alumni network to consider. You can bond with other graduates who have an affiliation to the same university and educational program, and that common bond can be a door opener in terms of making connections with professionals who can positively impact your new business.
5. Invest in Yourself
There is much more to success in life and business "who you know" or "what you know." A graduate degree is an investment in both "who you know" and "what you know," but, more importantly, it is an investment in "who you are," Investing in yourself through higher education is certainly a reflection of who you are and your approach to building a business. The important "who's" in your business networks may change over time, and the "what's" that are important in shaping your industry will also evolve. By advancing your level of business education and understanding, you will be investing in yourself, which is more important than the "who you know" and even "what you know", which, while both instrumental, are merely two of the potential benefits of investing in yourself and in your small business, through an MBA.


Did you find this article interesting? If so, share it!


And if you are considering pursuing higher education we invite you to find out more about Purdue Global's programs and explore our undergraduate and graduate degree offerings.

It is important to note that certain career paths are growing and our degrees are designed to strengthen your knowledge and prepare our students to advance their careers. But Purdue Global cannot guarantee employment or career advancement. Several factors specific to a student's or alumni's backgrounds and actions, as well as economic and job conditions, affect employment. Also, keep in mind that national long-term projections covered in articles may not reflect local and/or short-term economic or job conditions, and do not guarantee actual job growth.