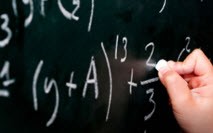 By Laura Baggett, Adjunct Faculty Member, Department of Mathematics

Since so many students at Purdue Global are returning to school after a number of years, it's not uncommon to hear students mention that they are learning the same thing in their math course at Purdue Global that their children are learning in their math class at school. Some are a bit embarrassed by this while others are grateful to have some extra help at home, even if it's coming from an unexpected source. Although the situation may seem a bit awkward a first, there are benefits to be gained for both the Purdue Global students (parents) and their children.

1. The best way to learn something is to teach it to someone else.
Even with two math degrees, there have been many times that I have discovered something new or understood something on a deeper level as a result of teaching it to someone else. Putting concepts into words that another person can understand requires thinking about a topic in a very logical way and considering how it relates to other concepts the student already understands. Regardless of whether the parent or the child is more adept at a certain skill, both will increase their understanding as one teaches the other.

2. Every teacher teaches a concept in a slightly different way, so they have the benefit of learning both methods.
Even though 1 + 1 always equals 2, there are a myriad of different ways to teach it to someone. One teacher might emphasize rote memorization. Another might spend time on real-life examples that illustrate the answer. Both methods have benefits. As the parent learns one method for solving a problem and the child learns another, they help each other appreciate the different approaches. In Purdue Global's math courses, the specific method for solving isn't generally as important as understanding the underlying idea, so the parent may find that he or she prefers the method taught at the child's school, or vice-versa.

3. Any shared experience can be a bonding experience.
Many Purdue Global students lead very busy lives and are trying to pursue degrees while maintaining full-time jobs and leading families. Getting the chance to work on something alongside their child can be a means of spending time together in a shared activity.

The impact of watching a parent work toward a goal or a dream cannot be overstated. As I have pursued a personal dream in recent months, my son has been my biggest cheerleader. He has encouraged me when I felt like it was pointless to continue, and I know that he is learning lessons about perseverance that will be far more lasting than any words that I could say to him.

The children of Purdue Global students are watching this pursuit in action, as well, and the effects will be long-lasting. Both the parents and the children are learning how to learn, learning how to dream, and learning how to achieve big and important goals. Success is becoming a family affair.