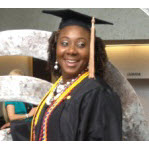 When Marlene Clarke began her associate's degree with Purdue Global, her focus was walking across the stage for the very first time. "It was an experience to remember when I walked across the stage for the first time in my life. I received the highest honor because of my dedication and hard work. Words cannot express the inner feeling of success and accomplishment."
Marlene completed her Associate of Applied Science in Business Administration degree in 2011. Upon completing the program, Marlene felt like something was still missing and so she decided to continue on with her education at Purdue Global by pursing a bachelor's degree. "With a taste of what to expect, I felt confident to start this journey once again," Marlene stated. While attending Purdue Global, Marlene was inducted into three honor societies and joined the Society for Human Resource Management, a registered student organization with the Office of Student Life.
"It has been almost a year since I earned my bachelor's degree and I am proud to say that I am returning once again as a student with Purdue Global. I have so much on my plate with my job, kids, and the intense studies and research that is required for the graduate program. I have no doubt that this will be a successful outcome and I believe that with every fiber of my being."
This time however, Marlene changed her focus and chose to pursue a Master of Science in Homeland Security and Emergency Management degree. "I am fearful of the tasks ahead but I have all the resources available to assist me. What appeals the most, is the fact that Purdue Global hires people in the field to teach the classes."
Marlene is proud of the positive influence she has been for her children and continues to motivate them to do whatever they set their minds to. "The other day my eight-year-old daughter told me that she wants to attend Purdue Global and achieve the same amount of degrees that I have. It was the moment I realized that kids rarely do what you say, but instead they do what you do."
Purdue Global cannot guarantee employment or career advancement.