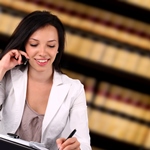 By Joanna Bauer, Full Time Faculty, Department of Communication
As I sat on stage at the Purdue Global commencement ceremony in Chicago and watched the graduates cross the stage, I thought of all of you—current Purdue Global students in our legal studies degree program busy with classes and counting down the months, or even years, to graduation. The words of keynote speaker Dr. Mae Jemison, the first African American woman to travel to space, still linger in my mind. She said, "All of you have inside of you—the stuff that stars are made of." And she is right—you DO! As you plan your strategy for pursuing your dream legal studies job remember those words. You have what you need inside of you already-you just need a plan to get there. It is never too early to start your career journey.
Your resume is the FIRST thing that a prospective employer sees. You can be the most qualified and intelligent person, but if your resume does not reflect this, that employer will never know how great you are. You may already have a resume—if so, start with what you have. If you do not have a resume, now is the time to begin creating one. When you have a basic resume completed, make sure to take advantage of Career Services (located in KU Campus at: https://kucampus.kaplan.edu/CareerNetwork). Career Services Specialists will help you professionally write your resume and your cover letter. Keep in mind that your resume represents you, and that you must always put your best foot forward.
Next, you should carefully select the area of legal studies that you wish to work in. I highly recommend that you take a WIDE variety of classes when preparing for your legal studies career. You may "think" that you are interested in one area of law, but sometimes you switch your focus after falling in love with a different area. Once you find your passion, make sure that you also research what your daily tasks would be working in your chosen area of law.
Here are some suggestions to get you started:
1. Talk to an attorney or paralegal working in that area of law.
2. Shadow an employee working in the area of law you wish to work in.
3. Read job descriptions or ads for jobs in the area of law you wish to work in.
4. Get an internship/volunteer at a firm that specializes in the area of law that you are interested in.
Also, it is essential to create a professional and positive social media/online presence. Make sure that your posts to any and all social media sites are positive and ethical, and are such that you would be comfortable allowing a prospective employer to read. You can also create a job search inspiration board on Pinterest to keep you motivated—for example: Pinterest Job Board. Be sure to create a profile for yourself using LinkedIn. Take advantage of the different job search engines such as Indeed.com, CareerBuilder, Monster.com, and, as mentioned, the services at Purdue Global's very own Career Services Department.* You should also regularly check the websites of law firms, governmental agencies, and companies with legal departments you wish you work at and save searches for available jobs.
Finally, you should already be networking. The first connections you can make are to your professors—get to know them, and distinguish yourself by submitting excellent work. Ask a professor to write you a letter of recommendation and inquire about their own personal job search techniques. If you do an internship, make lasting contributions. Join paralegal and attorney organizations as a student and make connections with working paralegals and attorneys.
Nicole Black (2014) recommends that you "..identify your chosen niche and then make it yours (para. 3). Learn all there is to learn about it (2014, para. 4)." Ms. Black also recommends that you start a blog and make yourself a vital part of the niche area you have identified (2014). Additionally, you can attend CLEs to increase your knowledge of specific areas of law while getting to know some of those who actively practice that kind of law.
Most importantly, keep your dreams alive with the fuel of hard work and determination. Remember the words of Dr. Mae Jemison and put your "star" qualities to work for you as you reach for the stars and pursue your dream job!
The views expressed in this article are solely those of the author and do not represent the view of Purdue Global.


Did you find this article interesting? If so, share it!


And if you are considering pursuing higher education we invite you to find out more about Purdue Global's programs and explore our undergraduate and graduate degree offerings.

It is important to note that certain career paths are growing and our degrees are designed to strengthen your knowledge and prepare our students to advance their careers. But Purdue Global cannot guarantee employment or career advancement. Several factors specific to a student's or alumni's backgrounds and actions, as well as economic and job conditions, affect employment. Also, keep in mind that national long-term projections covered in articles may not reflect local and/or short-term economic or job conditions, and do not guarantee actual job growth.


References
Black, N. (2014). Tips on standing out in a competitive market. The Daily Record.