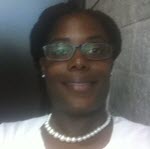 Say hello to Lacrecia Brown, who achieved her goal of earning a master's degree in education at Purdue Global by the time she turned 30!
Born and raised in Barnesville, Georgia, Lacrecia graduated from high school in 2003. She attended Gordon State College where she earned an associate's degree and a bachelor's degree. After college, she went on to work full time as a Title I paraprofessional at a local school and became a mom.
After having a son, Lacrecia was inspired to go back to school and earn a master's degree. "My motivation is my son, I wanted to show him that you can do whatever you want to do in life. I wanted to not only have a job but have a career and I would be able to do that with my master's degree."
Being a single mom and working full time, Lacrecia needed a university that offered the flexibility to take all of her classes online and study on her schedule. Purdue Global was the perfect match. At Purdue Global, Lacrecia was able to juggle being a student and mom while working full time. In 2015, she earned a master's degree in education, and is currently a pre-k paraprofessional.
According to Lacrecia, "I had a very positive experience at Purdue Global. I loved the professors; although, I took classes online, anytime that I texted or called them they were available."