By Dean Chandice Covington
Several years ago, I first became aware of a nurse practitioner-owned company that had tremendous success establishing inter-professional partnerships among nurse practitioners, physicians, and other health clinicians to provide collaborative care for frail elderly and nursing home residents. This early work by Evercare, now part of UnitedHealth Group, OptumCare, has since been replicated, validated, and adopted nationally and internationally.
Kristy Duffey, MS, APRN, GNP- BC, Vice President of HouseCalls Clinical Operations at Optum, is tasked with maintaining the quality of such a nurse-managed care model renowned for its personalized and compassionate approach to elder care. She brings innovation and leadership to the delivery of in-home care for seniors and is committed to the advancement of the nurse practitioner workforce at its foundation.
I learned firsthand about the difficulty of accessing simple health care in an efficient and comfortable way when my mother, herself a nurse, required dementia care in the last years of her life. That is why I am so proud and appreciative today of Kristy's contributions to both the field of elder care and the nursing profession.
Creating Career Opportunities
In her role at Optum, Kristy is responsible for the field and clinical operations of HouseCalls, consisting of more than 1,200 practitioners, a clinical analytics team, and teams of pharmacists, care managers, social workers, and dieticians. She has been instrumental in developing innovative clinical initiatives, such as an in-home lab program, and clinical referral programs designed to improve the health and quality of life of seniors.
Kristy also helped establish a nurse practitioner preceptor program at Optum, with over 50 university affiliations. It serves as a rich training ground for our nation's future nurse practitioner workforce. According to Kristy, individual and population health needs are changing. As a result, we need nurses to know more and be better trained to provide care. That is what she hopes to achieve with the preceptor program.
When asked for her advice to nurses considering the pursuit of advanced degrees, Kristy offers, "Advanced practice education affords vast opportunities and personal fulfillment. New nurses need to take advantage of any and all learning opportunities to show that they are invested in their careers."
Breaking Down Barriers
An advocate for the work of nurse practitioners, Kristy points to the progress being made by the Future of Nursing: Campaign for Action, backed by the Robert Wood Johnson Foundation and AARP. The campaign has mobilized state-level action coalitions around the country to utilize nurses more effectively in confronting the nation's most pressing health challenges. One of the campaign priorities is to remove scope-of-practice laws prohibiting advanced practice registered nurses (APRNs) from delivering care to the full extent of their education and training.
"Advanced practice nurses have the ability to provide quality, cost-effective care," explains Kristy, who sees this play out every day in the care her teams provide. "Barriers to independent practice, including scope of practice restrictions, onerous collaboration and supervision requirements, and payer policies, must be removed or changed to achieve better health care and lower costs."
Health Care Transformation
Kristy believes strongly that APRNs have a significant role to play in the improvement of health care quality and its ethical delivery in the United States. "Our focus on preventative care and use of evidence-based practices has nurse practitioners rightly positioned at the forefront of health care reform," she says.
According to Kristy, nurses are part of an ever-changing health care system being driven by the growth of managed care. She points to a number of other trends that are also shaping the nursing profession today and providing career opportunities: advances in medical technology; an emphasis on disease prevention and wellness promotion; and a rapidly growing elderly population.
Like Kristy, I see advanced practice nurses as an invaluable and underutilized resource in the U.S. health care system. I am encouraged, however, by the progress that has been made in recent years and very proud of the nursing leadership, like Kristy, that has stepped up to be a part of the solution.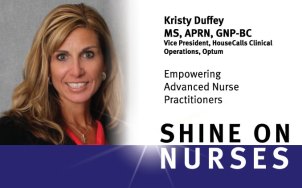 Kristy Duffey is a board certified advanced practice nurse, having earned her bachelor's degree from the University of South Carolina and an Master of Science in Nursing from the University of Maryland. She is a member of several organizations including: American Geriatric Society (AGS), Gerontological Advanced Practice Nurses Association (GAPNA), president-elect for Maryland Chapter of GAPNA, and a board member of The Center for Nursing Advancement.
The views expressed in this article do not represent the views of UnitedHealth Group.
Chandice Covington is dean of the School of Nursing at Purdue Global. The views expressed in this article are solely those of the author and do not represent the view of Purdue Global.