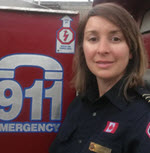 When Kelly Roberts began her master's degree program at Purdue Global in 2014, she lived in a completely different city and held a completely different job. Just a year into her degree, she moved to Fort McMurrary, Canada and started a job in the local fire department as the assistant deputy chief of communications. Despite the move and her new career, Kelly was able to maintain a 4.0 grade point average.
Just one month shy of completing her final course at Purdue Global, Kelly's world was turned upside down. Although her background is in the medical field and she was aware that she would have to respond to emergency situations, Kelly admits that "nothing prepared [her] for when it happened."
On May 1, 2016, a wildfire hit the city of Fort McMurrary. According to Kelly, "At first, the wildfire seemed manageable, but that changed at about 1:30 pm on May 3, 2016, when the winds made the fire shift, jump the protective river bank, and the fire slammed into the neighborhood of Beacon Hill."
As the winds began to shift, Kelly was located in the 9-1-1 center and started what turned into a 53-hour work shift. It was an unforgettable experience.
While describing the day, Kelly says "I will remember my first helicopter ride and the fact that I got it in order to survey the amount of damage to the community. I will remember meeting the Alberta Premier (Notley) and the Canadian Prime Minister (Trudeau). I will remember the endless feats of my staff, the department, and the city to continue. We have made the city safe."
After 31 days, the tragedy that the wildfire caused was finally over. Now behind in her final master's degree course, Kelly had to begin again. "Thankfully Purdue Global and my course professor have both supported me in my absence," says Kelly.
Kelly is a true hero inside and outside of the classroom. Despite Kelly's set back, she was able to graduate just a month after her original graduation date.
Purdue Global cannot guarantee employment or career advancement.