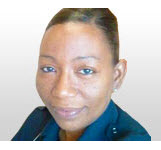 Katrina Longmire's path to promotion began with her decision to enroll at Purdue Global for her Associate of Applied Science in Criminal Justice.
Like some other Purdue Global students, Katrina was a single parent raising three children while working a 12-hour shift at her job. Things were far from easy.
"It felt like the whole world was on my shoulders at one time, but I knew that getting my education was something I had to do not only for me, but for my children," she asserts. "I needed to show my kids that no matter what, you can get your education."
After completing her associate's degree, Katrina was promoted to the position of police officer. She was so excited and proud of her accomplishment that she decided to continue her educational path at Purdue Global, graduating with a Bachelor of Science in Criminal Justice. This time, she was promoted to master police officer—and received a raise in salary.
Katrina attributes her success to the degrees she earned at Purdue Global. "Without my education from Purdue Global, I would not have been able to increase my income."
She was impressed with the level of support she received from her advisors and firmly believes that their help contributed to her success. She plans to return to Purdue Global to pursue her Master of Science in Psychology to study family counseling.
Katrina is passionate about helping others at home and at work. In her spare time, she volunteers at a local shelter to help displaced, disadvantaged pregnant teenagers. She also enjoys volunteering at her children's school, participating in show-and-tell activities, and helping with literacy programs.
Katrina encourages others to "continue your education until the fullest because that is something that no one can take away from you once you have it."
This testimonial was obtained by Purdue University Global. Purdue University acquired Kaplan University in March 2018 and created Purdue University Global, which is following the same curriculum format and instructional delivery methods as developed and used by Kaplan University. The views and opinions expressed are those of the individual; student experiences may vary.