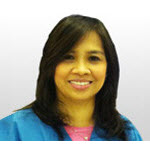 Ask Josephine Garcesa-Duque, a nurse at a heart center in a hospital, and she'll tell you in no uncertain terms, "I love Purdue Global, I love the faculty, and the education is excellent."
While she was completing her degree program, five of her work colleagues enrolled at Purdue Global. Coincidence? Perhaps.
With a real thirst for learning, Josephine began her Master of Science in Nursing at Purdue Global in 2009, and walked across the stage to receive her degree in August 2011. As she shook the hand of Purdue Global President Wade Dyke, she could hear her late mother's words: "I can't give you everything but education will open doors for you."
That conversation has left an indelible mark on her life. Josephine's mother instilled values of determination, humility, and courage, which Josephine has now passed on to her 11-year-old daughter. Today her daughter says, "Mom you have assignments too, and I expect you to get an A."
A lifelong learner, Josephine knows that learning is not just about finishing a class. It's a continual process of stimulation through reading, engaging, and learning from exchanges with others, experience, and formal education. She has become an inspiring influence in her coworkers' lives, as they too want to graduate from Purdue Global one day.
Today, Josephine works as a critical care cardiac nurse, administering care to patients with heart issues. "With my master's degree, I now have more options. I want to be a clinical instructor because I'm passionate about learning and teaching in an industry that needs more clinical instructors."
"Knowledge without action is useless. You have to put it into action. Knowledge empowers people. It empowers me."
This testimonial was obtained by Purdue University Global. Purdue University acquired Kaplan University in March 2018 and created Purdue University Global, which is following the same curriculum format and instructional delivery methods as developed and used by Kaplan University. The views and opinions expressed are those of the individual; student experiences may vary.