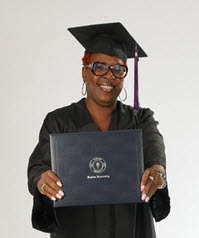 After 20 years of working in the corporate world, Jershaun Roberts, mother of three and grandmother of four, decided to change her career path.
She quit her last corporate job in 2006, and found her passion in social services when volunteering for a non-profit.
Since then, she was determined to make a living from working in social services. In order to do so, she needed a college degree.
She researched a couple of online universities, but found Purdue Global to be the best match for her busy lifestyle. Jershaun completed her associate's degree in applied science in business administration, office management in 2009 and went on to earn a bachelor's degree in human services administration in 2016.
"The flexibility was the best part about Purdue Global. I love the way that Purdue Global allows you to work when you can as long as you get everything in by the deadline. I had taken one semester at another online university and it was really stressful for me. Once I started Purdue Global, I knew it was perfect for me. I did my associate's degree at Purdue Global and loved it, and so I stayed at Purdue Global for my bachelor's. Being at Purdue Global, everything was just really free flowing. I was able to get help when I needed it. I was able to get the resources that I needed when I needed it, and it wasn't stressful for me with my hectic schedule."
While working on her bachelor's degree, Jershaun worked full-time as a life-coach for teen parents and youth transitioning out of foster care. She credits her professors at Purdue Global for helping her succeed.
"My time at Purdue Global was valuable because, again, it gave me an opportunity to use my life skills with the curriculum that was being taught. What I found to be the most helpful in my time at Purdue Global was the availability of my professors. There was not one time that I was not able to reach somebody when I had a question. From the professors to the staff, what I take away from being at Purdue Global and earning my bachelor's degree is that Purdue Global really does care about their students, and they are really available when they say that they're available."
Jershaun believes "…Purdue Global is really a good university for someone that has a really busy schedule. For older individuals who think that they can't go back to school, they do make it easy. They are very helpful. The flexibility was just the magic piece for me and the availability of the resources."
As she was nearing graduation, one of her daughters posted on social media about how proud she was of her mom's accomplishments. "So that made me feel really good to know that even though that you don't think they're paying attention, that they really are paying attention and it means something."
And, as result of Jershaun's graduation, her middle daughter is returning to college.
Her accomplishments had an impact outside of her family, too. "Even my clients are pumped because I'm like, 'If I can do it at my age with everything I have going on including your drama, you can definitely do it.' So it's been a motivational speech for me to really push my youth and my clients to do better," Jershaun proudly explains.
Next on the horizon is starting her own non-profit organization.
According to Jershaun, "My degree is going to help me professionally because now I have the credentials that everybody is looking for based on me moving forward. It's put me in a position to go for my Master of Social Work and get licensed."
As an alum, she still talks to Purdue Global's career services advisors. "She's really helping me with some things as far as it's related to me moving out into my own business and then also helping me revamp my resume just so that I can put it out there and just get some fillers until the business gets up and running. Purdue Global is still helping me. They still have their arms wrapped around me, and that's awesome!"
Jershaun admits, "I'm excited about the next venture in life."
Purdue Global cannot guarantee employment or career advancement.
This testimonial was obtained by Purdue University Global. Purdue University acquired Kaplan University in March 2018 and created Purdue University Global, which is following the same curriculum format and instructional delivery methods as developed and used by Kaplan University. The views and opinions expressed are those of the individual; student experiences may vary.