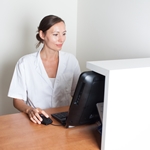 By Kelly Williams, MBA, RHIT, RMA, CPC, CPC-I
Faculty, Health Information Technology Department, School of Health Sciences
On October 1, 2015, the United States adopted a new coding system that had been long awaited and anticipated for many years. Many professionals in the industry were excited for the updates, but others were very nervous; some coders even considered retiring or moving to another career. This transition has been in the works for a long time and does not come without its bumps in the road. However, in the long run the specificity of the ICD-10-CM/PCS codes compared to ICD-9-CM will increase the value of the data that is collected on a daily basis by coders and HIM professionals.
What is ICD coding?
The abbreviation ICD stands for International Classification of Diseases. When looking at the abbreviation ICD-10-CM, the 10 stands for the tenth revision of ICD; the CM stands for Clinical Modification. The previous coding system used in the United States was ICD-9-CM and this was the ninth revision of the ICD coding system. ICD-9-CM was outdated, and as a result was causing many issues with the validity and accuracy of the data that was collected during the coding process. The numbers of codes in the ICD-9-CM codebook were also not extensive enough to capture all diseases and illnesses.
With the implementation of ICD-10-CM/PCS, the specificity of the codes is much greater and there are several areas in health care that can benefit from these updated codes. Some of the improvements we will see are in the following areas:
Quality of care tracking
Improvement in pay for performance processes
Track the amount of resources being used
Track the number of medical errors in a facility
The ability to share meaningful data with outside organizations
Better follow and tracking for chronic disease patients (Archer 2012)
Job Outlook for Coders in the New Industry
Now that we have discussed the transition to ICD-10-CM/PCS and the numerous benefits to health care organizations throughout the United States, let's look at how this is affecting the job market for coders right now. As the ICD-10-CM/PCS implementation date loomed closer and closer, it is expected that opportunities for coders may increase and could also open up new opportunities to those that are new to the career field.
Some of the opportunities may include apprenticeships where new coders and graduates can get on-the-job training and then move into a permanent coding position. This allows the coder time to fully learn coding in a real-world environment and allows the employer to evaluate the coder's skills on a trial basis. Most current programs will start the coder at a lower rate per hour for 6 months while they apprentice and eventually move them into a Coder level I position if they do well during the apprenticeship.
On the medical coding jobs boards, coders may find positions where companies are hiring employees with little to no experience and coders may even be able to land a job remote coding starting out. However, obtaining a credential from an organization such as the American Academy of Professional Coders (AAPC) or American Health Information Management Association (AHIMA) is essential for any of these opportunities. The preferred credentials are a Certified Professional Coder (CPC) from AAPC or a Certified Coding Specialist (CCS), and/or a Registered Health Information Technician (RHIT) from AHIMA. The Certified Coding Associate (CCA) credential is a starter credential that may be used for some positions starting out, but the majority of job postings require a CPC, CCS, or RHIT.
With this new and exciting climate in health care many are looking to start a career in coding and billing. Compared to 10 years ago, when organizations would only hire those with a credential and 2 years experience, the market is expected to look bright for new coders and billers . The key is proper training in coding, practicing and studying coding on a regular basis, obtaining a credential, and searching for a position that meets your expertise and qualifications. As a new coder, be open and willing to commute or move if needed. With the right fit the opportunities can be significant.
Kelly Williams, MBA, RHIT, RMA, CPC, CPC-I, is a faculty member at Purdue Global. The views expressed in this article are solely those of the author and do not represent the view of Purdue Global.


Did you find this article interesting? If so, share it!


And if you are considering pursuing higher education we invite you to find out more about Purdue Global's programs and explore our undergraduate and graduate degree offerings.