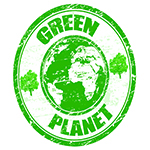 By Dr. Annissa Furr, Full-time Faculty Member
Children that enter kindergarten in the fall of 2017 will graduate from high school in 2030. It's hard to predict what our world will be like at the time, but I am confident that whatever the world brings, we are doing all we can to create a generation that will take care of our planet. I have no doubt that Earth day 2030 will mean just as much then as it does today. These children, and many others around their age, will someday take over the reigns as ambassadors of our Earth. Are they up for the challenge? I believe so. I sincerely believe that they possess the knowledge, the awareness, and the passion to take the very best care of our Earth possible.
Gone are the days of believing that the trash truck whisks away the trash to a magical place. Kindergarteners are very aware of landfills, and the fact that everything they throw away will take up space somewhere else on Earth. Every trip they make to the recycling bin is a small victory, and they actively seek out things they can save from the landfill. Their parents and others have instilled in them an understanding of the dangers associated with BPA, and they already have an impressive list of Earth-related words in their vocabulary.
On their bookshelves are books filled with stories about animals and plants, and their endless thirst for knowledge is fed with stories about keeping their Earth alive and healthy. Tom and Jerry have been replaced by champions who fight pollution instead of each other. Entire networks like Sprout and Nick Jr. are dedicated to shaping and molding them into healthy, responsible citizens of the Earth. Unlike the generations before them, they are encouraged from birth to be green and eco-friendly. They carry reusable water bottles, and cheer wildly when you pack their lunches in reusable containers. They haul reusable grocery bags into every store, and dutifully store them away for the next trip when the day is done.
Kindergartners hold an acute awareness of their responsibilities to our Earth. They release ladybugs into the world, mindful of their important role in the environment. School projects include gardening and trips to the landfill, and story books and cartoons are focused on recycling, reusing, and being kind to the Earth. Whether it is a big purple dinosaur urging them to turn off the water while they brush their teeth, or a caped crusader flying in to plant a tree, all of their heroes take care of our planet. It's simply the cool thing to do.
This future generation has a genuine passion for taking care of our planet. Thanks to the Lorax, they have become staunch protectors of the trees and the air. Ask them, and they will tell you that plants are the reason we can breathe in the air, and the monsters they envision are ones with saws and backhoes. They passionately plant seeds and lovingly attend to them as they grow. They have a deep love for our planet, and all that it supports. To them, every day is Earth day. As we celebrate Earth Day as a community, I challenge everyone to increase the knowledge, embrace the awareness, and adopt the passion of the class of 2030.
For more information and helpful tips on how to encourage growing up green, please visit the links below:
Grade school
Earth Day ideas as shared by school teachers: http://teacher.scholastic.com/earth_day/
Earth Day crafts and activities: http://www.enchantedlearning.com/crafts/earthday/
Earth Day games and videos: http://www.primarygames.com/holidays/earth_day/earthday.php
Middle school
Teach the family to recycle: http://www.apples4theteacher.com/holidays/earth-day/articles/teach-family-to-recycle.html
The Environmental Protection Agency Earth Day page: http://www.epa.gov/earthday/
PBS Earth Day page: http://www.pbs.org/special/earth-day/
Go Green by donating to charity: http://www.apples4theteacher.com/holidays/earth-day/articles/go-green-give-to-charity.html
Earth Day projects for older kids: http://www.kidactivities.net/post/Earth-Friendly-Projects-for-Grades-6-to-12.aspx
Explore the origins of Earth Day: http://www.earthday.org/