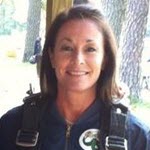 Say hello to Ginna Cortese. She is a proud grandmother of six and a military spouse. Ginna is also a Purdue Global graduate and a fitness buff and competitive bodybuilder. She is also 54 years young.
Born in Kinston, North Carolina, in 1962, her father served in the US Army, retiring to Fayetteville near Fort Bragg, where Ginna attended high school.
According to Ginna, "I was a single mother for many years who worked three jobs to support my children. I met my current husband, 1st Sergeant Martin Cortese, in 1996 while working out in a military gym. We have been together ever since. He has been an amazing husband and father for my children."
Ginna and Martin, who has been serving in the U.S. Army for 21 years, are currently stationed in Germany, assigned to the 12th Combat Aviation Brigade headquartered in Katterbach Kaserne in Bavaria. Ginna was also in the early 1990s a summer volunteer at Cape Fear Valley Hospital (also in Fayetteville), working in the physical therapy department. That included playing a lot of wheelchair basketball with disabled vets from Fort Bragg.
"I loved it so much, and when the hospital offered me a job working in the lab I had to take it," she said. She worked in the lab for several years until her husband received orders to move to Fort Campbell and, later, Fort Rucker in Alabama.
"While stationed at Fort Rucker, I went to school for respiratory therapy at a local community college and worked at Jackson Hospital in Montgomery in their respiratory department," Ginna explained. "We subsequently moved back to Fort Bragg in Fayetteville, where I worked in their long-term acute care unit for 5 years until my husband had orders to move to Germany in 2013."
"When we got to Germany, despite all my experience stateside, I could not find a job," said Ginna. "I was so disappointed, not to mention bored. I have worked hard my entire life, and I don't know how to just do nothing." Ginna decided to make some changes.
"I have always been an energetic person, and I love to work out, so that is when I started training for bodybuilding competitions," she said. In 2014, she also started something else—Ginna enrolled at Purdue Global.
"I was working out every day for about 5 hours, and still it was not enough for me," she said. "That is when I decided to go back to school. I looked at all the different schools they offer here in Germany, and none of them had anything that I was truly interested in. I loved the medical field, and so many people kept telling me I should do something I really enjoy. I prayed about it, and the more I thought about it working in a wellness field is something I would love to do."
Ginna enrolled in the School of Health Sciences. "I chose [Kaplan University] because it had everything I wanted in a university," she said. "They made it very easy for me to put all my paperwork in order to get started, and the fitness and nutrition classes are top of the line."
Ginna excelled both in the competitions and classroom. She placed first in her first three events, which qualified her to compete in nationals, where she placed fifth and sixth in 2014 and 2015. She also is carrying a 3.94 grade point average at Purdue Global.
Ginna notes the similarities between what it takes to be successful in competitions—where she is going up against women half her age—and the classroom. "More than anything, I love to motivate people to be healthy, to eat right, and to live the best life they can," she said. "Good health is so important, and after working in a long-term acute care facility for 5 years and seeing what an unhealthy lifestyle will do to the body, this was my chosen field. Both school and working out take a lot of discipline and focus. I put a lot of pressure on myself to do the best that I can in everything I do. I have always tried to set the best example for my children. I now have the opportunity to set that same example for my grandchildren."
"I couldn't ask for more," Ginna added. "I have learned in life that if you want something bad enough you will find a way to achieve your goals, and I am not about to give up on myself now, not at any age. I have been so blessed in my life, and more than anything I want to encourage people of all ages to go for their dream in life. You are never too old to go back to school or to reach a goal you never thought you could. Life is too short to give up or to do nothing. I love my life, and I wouldn't change a thing. Education is something that no one can take away from you. The more knowledge you have, the better off you are in life."
Ginna and Martin have orders to return to the United States (Fort Drum, New York) in April 2016, just in time for them to welcome their seventh granddaughter into the world.
This testimonial was obtained by Purdue University Global. Purdue University acquired Kaplan University in March 2018 and created Purdue University Global, which is following the same curriculum format and instructional delivery methods as developed and used by Kaplan University. The views and opinions expressed are those of the individual; student experiences may vary.