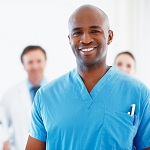 When people think of nurses, they often think of professionals who help at a patient's bedside. But nursing is more than direct patient care. Many nurses look into administrative positions as a way to take advantage of a job with daytime hours, with no lifting, higher pay and other perks. If you're looking to get out of the day-to-day grind of nursing, consider administration.
"While bedside nursing can be a rewarding career choice, it can also be physically taxing and involve being on your feet for eight to 12 hours at a time, not to mention lifting both equipment and patients," says Nancy Brook, a nurse practitioner at Stanford University Medical Center. "Moving to an office environment can offer the experienced nurse an opportunity to use their expertise in health care from a desk, without any physical demands. Hospital-based nursing is also a 24/7 position, while office based work is most often a Monday-Friday position with daytime hours. Many hospital nurses have missed out on holidays and special occasions with their families."
If you're looking to transition into an administrative position, there are a couple of things to keep in mind. "Education, education, education," says Dr. Colleen Dutile, professor and director of nursing at Purdue Global. "The continued growth of the mind helps the nurse to be better prepared for the administrative world. I always encourage my current and past students to continue their education. There is nothing that makes me more proud than to see a former student engage in continuing their education." Here are five nursing jobs with daytime hours and no lifting.?
"Throughout the U.S., the salary levels vary greatly," Dutile says. "The other element that is usually necessary to obtain an administrative role or a case manager role is education. Many of these positions require a minimum of a Bachelors of Science in Nursing degree."
Legal Nurse Consultants
A legal nurse consultant may evaluate care standards, causes of injury or illness, damages and other issues in medical-legal cases or claims. They analyze medical records, observe independent medical exams, serve as expert witnesses and may even prepare evidence for trial or investigation. They may work for law firms or insurance companies.
Clinical Research Associates
Clinical research associates work in laboratories, conducting medical tests to ensure new medicines and procedures are safe. They evaluate test results and may help recruit or screen patients. They may also be consulted on how to conduct tests or oversee methodology. They are usually employed by research hospitals or laboratories.
Workers' Compensation Analysts
A nurse who works as a workers' compensation analyst will help evaluate workers' compensation claims. Workers' compensation analysts review records of working conditions and reports of injuries that happen on the job to determine whether a workers' compensation ruling is advisable.
Wellness Coordinator
People with nursing backgrounds are well-suited for the position of wellness coordinator. The duties may vary by location. Wellness coordinators can work in human resources for a wide variety of companies, or may work at residential long-care facilities, rehab facilities or other health care locations. Wellness coordinators help oversee plans for people to improve their health through nutrition, exercise and routine medical care.
Risk Management
Nurses who work as risk managers help employers identify and mitigate risk in a health care facility. They examine procedures that help keep patients and staff members safe, examine malpractice claims, and deal with complaints from patients. Knowledge of federal and state regulations is helpful in this job.