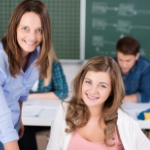 If you're training to become a teacher, you should set yourself up to get your first teaching job as soon as you're certified. "You really need to think about being hired before you get certified," says Purdue Global's School of Graduate Education Associate Dean Lynn Massenzio.
Here's what you should be doing along the way to getting your certification to put yourself in a good position to land your first teaching job fast.
Get Involved with Children
You need to do more than enroll in a teacher education program to demonstrate to prospective employers that you enjoy working with children, says Massenzio.
"Work with as many kinds of children, with as many ages of children, in as many different situations with children as possible," says Jim Longo, professor and chairman of the Washington and Jefferson College Department of Education.
"Actively seek out opportunities to work with children. There is no better training to be a successful teacher than to know and understand them. Work as a counselor at summer camps, coach younger children, work with Scouting programs, teach Sunday and Sabbath schools, babysit, etc."
Get Involved with Schools
You should also substitute teach, volunteer and find other ways to get involved with the school systems where you might like to work after you get certified, says Massenzio. That will show you know what it's like to be in a classroom, and "schools are going to hire people they know."
And while you're working in the schools, don't just get to know the principal and other administrators; make an effort to get to know other teachers and staff members too, she says. "If a principal is looking to hire and three of his or her teachers give you great recommendation, you'll have a much better chance."
Build a Network
Networking isn't just for the corporate world. In fact, it's vital to getting a teaching job, say education veterans.
"Become active in professional education associations and make connections with local educators," says Michael Uttendorfer, dean of New York Institute of Technology School of Education. "They may be a good source of information about job openings."
Develop a Portfolio
As you work with children and schools and go through your teacher education program, you should keep everything you do — lesson plans, classroom management toolkit and other materials — to build a portfolio of your work, says Massenzio.
These samples will help you demonstrate your teaching and planning skills to prospective employers, explains Uttendorfer.
Make a Good Impression
When you receive your certification and start looking for your first teaching job, "a thoughtful, targeted, professional approach is the best use both of your time and the school staff members' time," says Celia Scheff, communications specialist for the Urban Teacher Center.
She offers this advice:
Be on time. Always arrive 10 to 15 minutes early for any interview.
Dress professionally. Regardless of the interviewers' attire or school culture, wear a suit. It makes an impression and you'll stand out.
Research the school. Every school culture is different and you want to show you are a good fit.
Be considerate of administrators' schedules. They're taking time to interview you in the midst of other responsibilities.