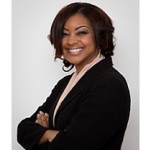 Dr. Toi Dennis is an adjunct professor and course lead at Purdue Global. She currently teaches Survey of Social Problems for the College of Social and Behavioral Sciences. Toi has been an instructor at Purdue Global for 3 years, and a professor for 7 years.
Growing up, Toi's mother was a single parent with three young children. She experienced some challenges and struggled to make ends meet. As a result, Toi and her younger brothers experienced homelessness.
"My mom is an amazing woman," Toi said. "God bless her. She tried as hard as she could, and I felt such compassion for her. We were so fortunate to connect with social workers who also were empathetic to her and our plight. They helped us and guided my mother to find a way out of our situation."
Inspired by the people who helped her family, Toi decided early on that she also wanted to develop a career helping others. She earned her undergraduate degree and immediately after earned her master's degree, both in family services. She gained experience and then earned her doctorate degree. Toi's dissertation focused on homelessness and how it affects children's mental and behavioral health, something she could definitely relate to from her own experience.
Toi also started teaching college, and she and her husband had a daughter, who is now four.
"I gained the necessary experience and I really enjoy teaching others about this great career," Toi said. "I also wanted to continue my hands-on work in the field, and having my daughter really inspired me."
With her husband's support, a few months ago Toi started her own not-for-profit women's shelter, Serenity House (www.serenityhouseshelter.com). Serenity House will be a transitional shelter that offers supportive services to women and their children. Toi is working on hopefully getting a donor to provide a building, but for now she has partnered with a local non-profit day shelter. The local media has been helping her raise awareness about Serenity House and the homeless in the Nashville area. Toi was recently featured on Nashville's Channel 5 regarding her first annual OperationWarm-Up Coat and Clothing Drive. Nearly 100 coats, hats, scarves, mittens, and blankets have been gathered and tagged by 15 volunteers. On November 9, Toi and Serenity House volunteers will be handing out the clothing at a local church.
Toi will then start working on Serenity House's Annual Holiday Book and Toy Drive sponsored by (BAM) Books a Million Book Store.
If any Purdue Global students are interested in donating any warm clothing items, toys or books, please send them to Serenity House, P.O. Box 31251, Clarksville, Tennessee, 37040. Toi can be reached at 931.320.9485 or Serenityhouse@serenityhouseshelter.com. You also can "like" Serenity House on Facebook at: http://www.facebook.com/SerenityHouseWomensShelterInc.
Toi offers her advice to Purdue Global students interested in entering the social services field. "You really have to be a compassionate person. You have to adjust to a lot of different variables, and you need to be non-judgmental and a good listener. Most importantly, you need to realize that we can't change the world, but we can certainly make a difference!"
As Purdue Global honors National Homeless Awareness Month and those that work so hard for the homeless, we feature Toi and her inspiring work helping the less fortunate.