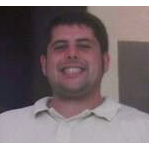 F. Derek Roman is from Philadelphia, Pennsylvania. He graduated from high school in 1999 and continued his education at college, though he did not find his passion at school. He found more success working as a tech support specialist and a help desk analyst.
Derek chose Purdue Global due to the demands of his work schedule. He knew that he wanted to go back to school, but wasn't sure if he would be able to attend daytime classes at an on-ground university.
After 4 years in the professional world, Derek decided to pursue his newfound interest in programming at Purdue Global, where he obtained a bachelor's degree in information technology. "Through my degree plan, I was exposed to a variety of different programming languages and technologies for achieving a variety of goals."
During his time at Purdue Global, Derek found he owed part of his success to two important resources: Education Advisors and professors. He said, "A fantastic Education Advisor always answered all of my questions and even when she didn't know them, she knew who to contact to find the answers we needed. Also, both the instructors and tutors not only showed me what I was doing wrong but why it was wrong, so I could further my knowledge even more."
Derek shined both in and outside the classroom. At Purdue Global, he was able to maintain a cumulative GPA above 3.8. He also was a member of three different honor societies and two student organizations.
Six months before Derek completed his degree, he was promoted from working in support and infrastructure into a dot net developer role. He said the promotion, which included a raise in salary, allowed him to "perform work that I love and be supportive for my family."
Though Derek had a successful career before obtaining his degree, he credits his promotion to his education at Purdue Global. "My education is what allowed me to have the career I wanted within that organization."
Currently, Derek is working full time as an associate programmer analyst.
His advice to others, especially those who are just beginning school, is that "your education is in your hands. Make the best of where you are at and make sure you do what you want to do. Once you land that job you love, you will never 'work' again."
Purdue Global cannot guarantee employment, career advancement, or any particular salary.
This testimonial was obtained by Purdue University Global. Purdue University acquired Kaplan University in March 2018 and created Purdue University Global, which is following the same curriculum format and instructional delivery methods as developed and used by Kaplan University. The views and opinions expressed are those of the individual; student experiences may vary.