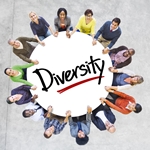 Introduction
Diversity has played a significant role in the history of employment, access to community resources, and education. As recently as the 1960s, diversity initiatives in the workplace were not encouraged or accepted. However, thanks to several movements to create awareness about the benefits of encouraging diversity, organizations have since come to recognize that diversity in the workplace plays a significant role in success.1 Nevertheless, lack of awareness and prejudice continue to exist.

Diversity can be defined as differences in gender, race, ethnicity, sexual orientation, physical handicap, age, and religious and spiritual belief systems. One of the rising contributors to workforce diversity is the aging survey of 2,000 people between the ages of 50 to 70 years of age found that:2
5 percent of the participants had no plans of ever retiring
60 percent of the participants expect they will work part time
The number of working grandparents raising grandchildren continues to rise
Diversity Discrepancies
While the aging population positively contributes to diversity in the workplace, there remain a number of race and gender disparities:
According to the U.S. Census Bureau, the 2009 earnings of women who worked full time, year-round were 77 percent of that for corresponding men.3
Median earnings differences in 2008 for those holding a bachelor's degree include:4

African-American males: $42,500
Hispanic males: $45,000
White males: $54,200
African American females: $41,000
Hispanic females: $41,000
White females: $41,500
The aforementioned statistics make it important for individuals, employers, and policymakers to be aware of effective strategies for managing diversity.

Strategies for Change
As diversity needs in the workplace become more prominent in the business world, many companies have begun to incorporate diversity initiatives that focus on inclusion and acceptance. However, a 2001 study that compared diversity practices to diversity needs found that 74 percent of executives believed their diversity programs were effective, whereas only 38 percent of the employees agreed.2 The following strategies for change could help increase diversity awareness and decrease employee bias: 2
Establish and maintain relationships with employees
Be involved with day-to-day operations to maintain awareness of diversity issues
Use a performance-based management style
Connect inclusion and diversity goals to management compensation
Hire managers who will ask human resources for diverse job candidates
Ask all employees to communicate their employer's diversity practices
Devote appropriate marketing efforts to recruiting a diverse pool of employees
Use workplace moments involving diversity as an opportunity to begin conversations between employees
Treat everyone with dignity and respect
Summary
There is research to support the idea that encouraging a diverse workforce is advantageous. However, in spite of ongoing efforts to create awareness about diversity, many inequities continue to exist. The strategies discussed above can be used as a model to further increase diversity awareness and reduce bias.
References
1. N. Carr-Ruffino, Managing Diversity: People Skills for a Multicultural Workplace (Pearson Custom Publishing, 2003).

2. B.L. Johnson and B. R. Davis, "Encouraging Diversity in HIM, the Responsibility Belongs to Everyone," For the Record 16, no. 2 (2004): 26. Accessed from http://www.fortherecordmag.com/archives/ftr_012604p26.shtml.

3. U.S. Census Bureau, Income, Poverty and Health Insurance Coverage in the United States: 2009. Accessed from http://www.census.gov/newsroom/releases/archives/income_wealth/cb10-144.html.

4. College Board Advocacy & Policy Center, Earnings by Education Level, Race/Ethnicity, and Gender, 2008. Retrieved from http://trends.collegeboard.org/education_pays/report_findings/indicator/4#