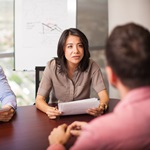 By Robert Palmer, Faculty, College of Social and Behavioral Sciences
There are many variables that determine how well an organization or company operates. Effective communication and conflict resolution, process evaluation, professional competence, and effective management are examples of the components necessary for businesses to succeed.
Often, shortcomings in any of these areas can be traced back to the ways employees are selected and trained, as well as how they share information or interact. Industrial/organizational (I/O) psychologists use their knowledge of human behavior to address these challenges.
They use quantitative research and evaluation methods to apply best practices within a company and teach people how to work better. Their research may take the form of an observation, where they document how an employee or team performs in their work environment, or a survey designed to identify issues affecting workplace behavior. This research might be aimed at increasing employee productivity, developing screening procedures for new applicants, increasing overall workplace quality, or getting to the root of a work-related issue that is interfering with performance.
What You Can Do
I/O psychologists apply their scientific research in all types of organizational and workplace settings, such as manufacturing, commercial enterprises, labor unions, and health care facilities. The focus of their research ranges from applicant and employee testing and assessment to leadership development, staffing, management, teams, compensation, workplace safety, diversity, and work-life balance.
Other I/O psychologists work in research or hold academic positions in colleges and universities. In addition, they are qualified as trainers, facilitators, assessors, coaches, and consultants. I/O psychologists may also work directly in an organization's human resources department, or they may act as independent consultants, called into an organization to solve a particular problem.
Making It Happen
The career path to becoming an I/O psychologist begins with a bachelor's degree in psychology. Opportunities with a bachelor's degree alone aren't unheard of, but they are sparse. Most students interested in I/O psychology go on to earn an advanced degree, although they may take time off between degrees to work and gain real-world experience.
A person with a master's degree in I/O psychology is often able to find an entry-level position to launch a career. However, those with a doctoral degree will have more employment opportunities in this field.
According to the Bureau of Labor Statistics Occupational Employment Statistics, in 2016 the largest area of employment for I/O psychologists was in scientific research and development services. This was followed by management, scientific, and technical consulting services. Other areas included state government and educational institutions.
Robert Palmer is a faculty member at Purdue Global. The views expressed in this article are solely those of the author and do not represent the view of Purdue Global.



Did you find this article interesting? If so, share it!


And if you are considering pursuing higher education we invite you to find out more about Purdue Global's programs and explore our undergraduate and graduate degree offerings.