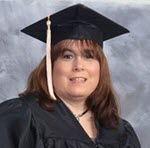 Debra Hunter completed her Bachelor of Science in Public Health in 2013 and is now pursuing her Master of Public Health with Purdue Global. She learned about the University from a friend who had attended. Debra will graduate with her master's degree in 2015 and she couldn't be happier about her accomplishments at Purdue Global. "I am a proud alumni," she states.
Debra works full time, is married with children, and appreciates the flexibility Purdue Global provides. "Kaplan makes sense for me," she explains. It is easier for her to take classes when she has the time, instead of being restricted to a schedule after work when she is tired.
"My education has always been important to me," Debra adds. She attended a junior college after high school and completed her medical assisting degree in 1995. Debra always wanted to complete her bachelor's degree and went back to school after her grandfather had a stroke. "My love for helping others and the healthcare field came from my grandfather."
Debra has been able to advance her career after obtaining her bachelor's degree. "I currently work as a client services/marketing assistant for a company that has home-based vision therapies for people that have visual deficits due to a stroke or traumatic brain injury." Debra's goal after completing her graduate degree is to work for Emory University or the Centers for Disease Control and Prevention in epidemiology or as a public health analyst. Debra says these goals would not have been possible without Purdue Global: "Thank you Purdue Global for being a part of my educational journey."
This testimonial was obtained by Purdue University Global. Purdue University acquired Kaplan University in March 2018 and created Purdue University Global, which is following the same curriculum format and instructional delivery methods as developed and used by Kaplan University. The views and opinions expressed are those of the individual; student experiences may vary.