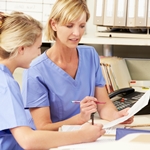 These days, like it or not, the concept of having only one job over the course of your lifetime is pretty much a thing of the past.
Finding a career that can change and grow with your own life changes-as well as job changes-is one way to adapt while still doing the work you love.
As your life ebbs and flows, your career needs and goals also change. You may find yourself getting married, having children, and then watching your children go off to school. You may have more time to devote to your career at different stages of your life. You may need extra income at some times.
Nursing is one career path that can be flexible with your life changes.
You might start your nursing career as a single person, but you see a future with a partner and children. Or maybe you already have children and are looking for a career that you love and that also fits your busy schedule. As a parent, you may already have a lot of the qualities needed to be a great nurse. Most parents are masters at multitasking. Plus, the patience and compassion of a parent are essential to a successful career in nursing.
Nursing also accommodates many of the trials and tribulations of parenting. Depending on where you work and how you specialize, nurses can choose positions that fit changing schedules. In a hospital setting, you can work only weekends, or you can take multiple shifts throughout the week. You also have the flexibility of working evenings and nights. At a doctor's office or clinic, a nurse can work a traditional 9-to-5 schedule.
Setting is crucial to the type of schedule you're looking for. A nurse may serve at a 24-hour hospital, a clinic, or even part time in home health care. Each field of nursing has its own demands and scheduling differences. Specialization in different areas further breaks down scheduling requirements. Just as physicians specialize in specific fields, the nurses who work with them also specialize.
The key is to do your research to find the field that fits you best. Obtaining advanced degrees in nursing is more attractive today than ever before. However, nursing is definitely a career you can grow into. You don't need to overwhelm yourself with attaining higher degrees right away if it doesn't make sense for your current situation. When and if you do decide to advance your career, flexible night and online programs can help you with little disruption to your life.
You also can enroll in an online program to help you advance in your nursing career.* For example, you can advance from a Licensed Practical Nurse (LPN) to a Registered Nurse (RN); or proceed from an Advanced Practice Registered Nurse (APRN) to a Nurse Practitioner with a doctorate of nursing practice degree (DNP), while still having time to care for your family. As your life and needs change, so can your career.
So if job hopping and constant career change isn't a future you envision for yourself and you consider yourself a compassionate and caring person, you might want to consider a career in the stable and growing field of nursing. From your 20s all the way into retirement, nursing can be a stable, healthy career choice.


Did you find this article interesting? If so, share it!


And if you are considering pursuing higher education we invite you to find out more about Purdue Global's programs and explore our undergraduate and graduate degree offerings.

It is important to note that certain career paths are growing and our degrees are designed to strengthen your knowledge and prepare our students to advance their careers. But Purdue Global cannot guarantee employment or career advancement. Several factors specific to a student's or alumni's backgrounds and actions, as well as economic and job conditions, affect employment. Also, keep in mind that national long-term projections covered in articles may not reflect local and/or short-term economic or job conditions, and do not guarantee actual job growth.