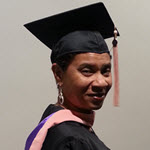 Say hello to Bobbie Covington Stokes, who earned her Bachelor of Science in Health and Wellness and Master of Science in Health Education from Purdue Global.
Born and raised in Hamlet, North Carolina, Bobbie graduated from high school in 1978. She attended a local community college and worked in health care for a time. Bobbie and her husband Emmett eventually started a residential cleaning service in 2000.
When the economy went into a tailspin in 2008, Bobbie and her husband decided to make a change after doing more than a years' worth of research. They enrolled at KU.
"We needed the education to change our careers," said Bobbie. "The reason I chose Purdue Global is because of the health and wellness/health education curriculum, online classes, and the fact that we could communicate with the professors during seminar."
Bobbie started at KU in November 2009 at age 49, completing her undergraduate program in 2012. She earned her master's degree in 2014 just before her 54th birthday.
According to Bobbie, "The overall KU experience helped me grow so much. I felt like a flower blossoming. The online experience was fantastic and very flexible, which is what older adults returning to school need." In 2014, Bobbie and Emmett (who also graduated from Purdue Global ) closed their cleaning business. In March 2015, they began a new endeavor, starting a health and wellness center for chronically ill and obese individuals and families in their community.
This testimonial was obtained by Purdue University Global. Purdue University acquired Kaplan University in March 2018 and created Purdue University Global, which is following the same curriculum format and instructional delivery methods as developed and used by Kaplan University. The views and opinions expressed are those of the individual; student experiences may vary.