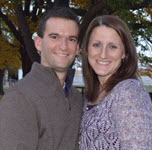 Blake Wells is one determined individual. In just a few short years, he was able to work his way up from a server at a fast food restaurant to an accounting supervisor at a Forbes Fortune 30 corporation. Getting there was not easy.
First, Blake earned his associate's degree in accounting at Richland Community College and then went on to earn his bachelor's degree in accounting at the University of Illinois–Springfield. He then found motivation to go back to school to further his education even more by earning a Master of Science in Accounting.
Blake was drawn to Purdue Global because of the "high ratings, low cost, and the accommodations." He says, "I wouldn't have been able to earn my master's degree in a traditional school setting, so the online platform was the only way I was able to achieve that goal."
At Purdue Global, time management was his biggest challenge. Blake admits, "With a full-time professional career in accounting, a family, rental property, and a small farm, time was a very valuable, hard-to-come-by commodity for me." Although making time for school was challenging, Blake found the courses at Purdue Global extremely valuable and worthwhile. Today, he uses the material he learned in the classroom and applies it to his current position as an accounting supervisor.
All of Blake's hard work certainly paid off. Not only did he earn a 4.0 GPA at Purdue Global, but also received two promotions since he started his master's degree.
Blake's advice to others who are interested in going back to school is "if you're even considering it, do it now. When you finally do decide to do it, you'll wish you had done it earlier."
Purdue Global cannot guarantee employment or career advancement.
This testimonial was obtained by Purdue University Global. Purdue University acquired Kaplan University in March 2018 and created Purdue University Global, which is following the same curriculum format and instructional delivery methods as developed and used by Kaplan University. The views and opinions expressed are those of the individual; student experiences may vary.