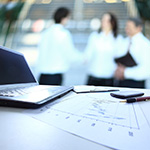 You're an expert in your field. You can code, analyze network issues, and help manage the IT infrastructure. You're also great on the people side of technology: you have a great IT bedside manner and work well with customers. You excel at out-of-the-box problem solving and you are very detail oriented. You get good reviews at work and your annual pay raise, but you're struggling with how to advance beyond the help desk.

Do you see a world of opportunity, including career growth, increased earning potential, and skills expansion beyond the glare of your laptop screen? Hold on to your vision, because in today's IT economy, moving up in your company doesn't have to be a full-time job.

You can boost your confidence and career advancement opportunities with these suggestions.
Take on Additional Responsibility
Whenever possible, ask for more responsibility and volunteer to do additional work "above and beyond" your job description. Perhaps there is a company-wide IT project that keeps getting sidelined due to understaffing. If it means working late and weekends, be willing to go the extra mile to prove that you are a team player and a hard-working, loyal, and indispensable asset to your company. Just be careful not to take on a project that is too far beyond the scope of your capabilities. You want to take the opportunity to succeed!
Mentor a Junior Staffer
Mentoring a junior employee is a great way to show your colleagues and supervisors that you are a positive role model, willing to take the time to share your knowledge and experience to help others at your company. You can even take the time to build a mentoring program in your division, to help document and share best practices.
Stay on Top of Trends
Make a strong first impression with senior leadership by becoming a savvy IT industry news expert who is on top of today's business and IT industry trends. Use Google Search to find relevant and timely industry news articles and subscribe to online industry magazines and blogs. Most IT industry trade magazines now have an online presence where they post free educational resources and digital tutorials. Perhaps you can even expense some of the publications to your company. Remember to ask your supervisor first! Once you read the interesting articles, forward them to your supervisor and colleagues. In your own words, include a brief up-front summary of the article, and your perspective on the article and the issue discussed. This can help increase your presence in the department, and can elevate your own personal "brand."
Network and Learn at Conferences and Workshops
By attending local conferences and workshops you can refresh your knowledge, develop a new skill set, learn from the experts, and network with other like-minded professionals. Think outside of your IT box and also investigate events outside of technology, so you can learn more about the business side of your field. Utilize the Internet, industry blogs and trades, and your local business journals to find a conference or workshop that sparks your interest and supports your career goals. Make sure to ask your supervisor first, and see if your company will pay for the conference and perhaps give you the time off to attend. When you return, make sure to provide a summary of the event the following day, outlining what you learned, who you met, how it could benefit your company, whether you believe it was a good investment, and any follow-up you will take.
Get Certified, Get Ahead
In today's economy, IT professionals with career specializations are highly sought after because of their expertise in a specific area of technology. Getting an IT certification is a low-cost, easily accessible way to advance your career, and a great way to prove your baseline knowledge. Every vendor offers its own certification and degrees of certification. Remember to ask your supervisor first, as your company may give you the time off and pay for the certification.
Network and Connect
Professionals across all industries are using social media networks such as LinkedIn and even more niche-specific IT sites such as SpiceWorks or IT Toolbox. You can talk shop with fellow tech pros and vendors, learn about new job opportunities, show off your projects (make sure the information is not proprietary to your company) and get the scoop on new products and services.
Advance Your Education
Now may be the perfect time to advance your education. You may choose to get a bachelor's or master's degree in IT or IT security; or you may want to go for a graduate certificate. If you want to earn more business credentials, you may choose to earn your Master of Business Administra