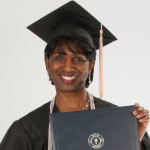 Beverly Holmes has been a licensed physical therapist for more than 25 years, helping seniors improve their functional mobility.

Born and raised in New Jersey, she loves the work, but decided she wanted to make a change.

"I've been doing it for a number of years. I did a 5-year contract with the military doing that, but most of those years have been in long-term care in the geriatric population, and I was getting to a point where my body was saying, 'It's kind of time to do something else.'"

Beverly knew that she had to go back to school. But continuing her education while working full-time and raising three teenagers would be challenging.

"I started looking at my options. I wanted to stay in the health industry because I love health and wellness, and all of that kind of thing that's connected to it. I wanted to build one and add on. So I started looking at nutrition science. That's what led me to Purdue Global."

She wasn't sure at first about going to an online school.

"Other than a course here and there for keeping my license active for physical therapy, I'd never really taken any schooling online. So this was my first experience, and I was kind of nervous at first."

She enrolled in Purdue Global in 2014.

"I loved it and I tell everybody this is the way to go, because if I had to go to a brick and mortar building for school, I probably would not have because I don't have that kind of time to spend on the road going back and forth, sitting in the classroom. So, Kaplan really made it easy for me to do that—to continue on."

Beverly earned her bachelor's degree in nutrition science in 2016 and is now pursuing a Master of Public Health from Purdue Global.

"I want to get certified as a diabetes educator, and that's a rigorous certification. But I also want to get in to disease management and education. The degree in public health opens so many doors. So, I may add some things in there and kind of see exactly where I'm going to go with it, but I'm definitely into some type of disease management and education area."

Another added bonus to attending and graduating from Purdue Global was the example she set for her kids.

"I got to show my children that learning and education doesn't stop. You can continue on. It doesn't matter how old you are because I'm a little older now. I'm up there."

According to Beverly, going to Purdue Global and studying online was a great decision for her.

"It works within your lifestyle because—especially catering to people who are already kind of older and going back to school, that kind of thing—have families, work, and other things going on—this type of educational system is really valuable. It's just very valuable. So, I would tell them all of that. And go with Kaplan—it's the best."
This testimonial was obtained by Purdue University Global. Purdue University acquired Kaplan University in March 2018 and created Purdue University Global, which is following the same curriculum format and instructional delivery methods as developed and used by Kaplan University. The views and opinions expressed are those of the individual; student experiences may vary.
Purdue Global cannot guarantee employment or career advancement.