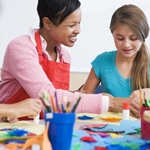 Individuals passionate about art often experience an internal tug of war between fulfilling one's creative ambitions and finding steady work with benefits, paid time off, and a definable future. One way for artists to manage that tug is to explore the field of education. Artists and art lovers often enjoy igniting that passion in others and may find that becoming an art teacher is an ideal career choice.
As with many career choices, the first step toward finding the perfect job is to complete appropriate education requirements and/or earn the proper credentials.
The requirements and education level needed to teach art depends upon where one will be teaching and whom is being taught. To teach art at an elementary, middle, or high school level, most states require a bachelor's degree in education. Many students earn degrees in a specific art-related field, such as graphic arts, painting, or digital art. Others may concentrate studies in areas such as art history, color theory, or design. In addition, a Master of Arts in Teaching can help boost your knowledge and credentials in the field.
Some states and programs require the completion of a teacher education program and/or obtaining a teacher's certification. Counselors at a local university can answer questions about requirements in any particular state. Once enrolled in these extended programs, expect to complete supplemental courses in lesson planning, classroom management, and teaching methods. As part of the process, students will be assigned to teach at a school under the supervision of a licensed teacher. This excellent opportunity allows students to apply learned methods and techniques, while gaining actual teaching experience.
Most elementary and secondary school art teachers find joy in inspiring student creativity through projects in ceramics, sculpture, painting, drawing, or even digital technologies. Some have the opportunity to teach art history and introduce students to important works of art by the masters. To teach art at the college level, a master's degree will most likely be a prerequisite, but the fulfillment of teaching other aspiring artists can be most rewarding.
After your education is complete, finding the right position for you could be made easier by participating in an internship, volunteering as an art teacher for children's programs in your community, or working as a substitute teacher. The experience gained will be invaluable and networking opportunities presented may offer a helpful ingredient in landing a job. Employment openings for art teachers can be found by perusing local school boards and publications for educators and teachers' unions as well as classified ads.


Did you find this article interesting? If so, share it!


And if you are considering pursuing higher education we invite you to find out more about Purdue Global's programs and explore our undergraduate and graduate degree offerings.

It is important to note that certain career paths are growing and our degrees are designed to strengthen your knowledge and prepare our students to advance their careers. But Purdue Global cannot guarantee employment or career advancement. Several factors specific to a student's or alumni's backgrounds and actions, as well as economic and job conditions, affect employment. Also, keep in mind that national long-term projections covered in articles may not reflect local and/or short-term economic or job conditions, and do not guarantee actual job growth.