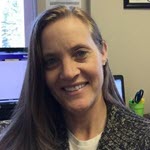 Meet Anne Henningsen. A native of International Falls, Minnesota, Anne and her husband Allen have been married for 23 years. They are the proud parents of two grown children.
Anne attended South Dakota State University, where she majored in sociology. "After 3 years of college (1992–1995), my husband was offered a job in my hometown so we packed up and moved. International Falls only has a community college, so my college plans were put on hold."
Anne and Allen started a family.
"After a couple of years of being a stay-at-home mom, I enrolled in some classes at the local community college. I eventually earned an accounting certificate and then my associate's degree. This all occurred over a span of 7 years, taking classes here and there while working and raising a family."
Anne also started work in the accounting department at her local credit union.
"When one of my coworkers was let go after 10 years of employment with no inclination that she was going to be fired it made me realize I needed to finish my degree."
Anne decided to make a change and finish what she started nearly two decades earlier.
"It was around this same time that my son was just starting to take some online classes for his college program. So I did some research and found Purdue Global. I was very surprised (and disappointed with myself for waiting so long) that I only had 18 months of classes left to get my bachelor's degree in human services a degree that ties together with what I had started 19 years earlier."
Anne graduated from Purdue Global with her Bachelor of Science in Human Services in April 2015. She credits her family for providing the support and encouragement that made it all possible.
"Because they believed in me and were willing to help and support me through the process of completing my degree, I believed I could do it. Needing to be able to take time away from my family and just regular household duties, and knowing my family would step up and assist where needed, helped me to be able to dedicate the time needed for my classes and homework. My family encouraged me when I was feeling overwhelmed and they were understanding when my time had to be devoted to my studies."
Anne also credits her success to finding the right balance between family, work, and school. "What I did to balance school time with everything else was to have specific time set aside for school. But, I also had the flexibility to switch up the times if life events came up. Also, to keep it balanced, family time was family time and I didn't bring school to work. Everything was kept separate, so I could concentrate on each aspect and not have everything blur together."
She also decided to change careers. She left the credit union after 14 years and, thanks to her degree from Purdue Global, Anne joined Koochiching County Public Health, where she is a social worker/care coordinator.
She loves it.
"Being new to my position, I still have lots to learn. Right now, my typical day includes getting to know the different health care plans and being available to my clients. I work with clients that are on the CADI waiver (ranging in ages from 15 months to 65 years old)."
The Community Access for Disability Inclusion (CADI) Waiver in Minnesota provides funding for home- and community-based services for children and adults who would otherwise require the level of care provided in a nursing facility.
"I am also a care coordinator for clients on the different medical plans. What I have been enjoying most about my new job is interacting with the clients. Going out to my clients' homes, being able to offer them help and hope is an amazing feeling."
According to Anne, while school was tough, her experience at Purdue Global was well worth it.
"Going back to school and finishing my degree while having a family and a full-time job was a challenge. But, I realized that I needed get my bachelor's degree, get a job that I have chosen for myself, and make myself and my family proud.
Anne is looking forward to a bright future.
"Having been working in the same job for over 14 years was also difficult to move away from, but I was looking at it from the perspective that I have at least 18 more years to work before retirement. The job I had at the credit union was a position that I worked my way up into. It wasn't the 'career' I had chosen for myself, not the job I wanted to retire from. Being able to work with people on a daily basis, being able to improve their lives if even in the smallest, simplest way (a phone call to say hi, how are you doing), is a career I look forward to retiring from."
Purdue Global cannot guarantee employment or career advancement. Additional training or certification may be required. In addition, job titles and responsibilities may vary from organization to organization.
This testimonial was obtained by Purdue University Global. Purdue University acquired Kaplan University in March 2018 and created Purdue University Global, which is following the same curriculum format and instructional delivery methods as developed and used by Kaplan University. The views and opinions expressed are those of the individual; student experiences may vary.