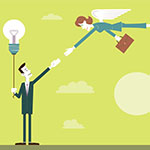 By Richard Carter, PhD, Full-Time Faculty, Purdue Global
Published May 2016
What do high-profile success stories like Uber, WhatsApp, and Facebook have in common? They were funded by angel investors.
The trials of starting and managing the growth of a small business.
According to the United States Small Business Administration (SBA), over 50% of small businesses fail in the first year and 95% fail within the first 5 years. The two most frequent reasons for small business failure include insufficient capital and lack of business management skills.
Angel investors…who are they and how do they help small businesses?
The angel investor industry is regulated by the Securities Exchange Commission (SEC). An SEC-accredited Angel Investor (angel) is an individual having a net worth of at least $1 million and makes at least $200,000 a year.
Angels can help the cash strapped entrepreneur given the two significant reasons for failure as noted by the SBA. Angels invest much needed capital in emerging businesses and provide the experience of a well-seasoned and successful business manager. Industry data shows the 2013 average angel investment was $680,000.
Angels give you money, with strings attached.
A convertible bond is the cornerstone of the angel funding process. This financial instrument is debt but is designed to convert into preferred stock once agreed upon financial goals are met. The debt instrument held by the angel may well include the entrepreneurs personal and business guarantees. Yes, your personal residence may be collateral.
The devil is in the details.
Once you have met the initial financial goals set by you and the angel, you have almost arrived! The convertible bond is converted to preferred stock. However, there are caveats incorporated in the angel's newly issued preferred stock. You may have shown "valor" in the earliest and most challenging times but angels want to ensure a profitable future and a large return on their investment should they divest their stock.
To manage their risk and return, angels may require protective provisions as part of the preferred stock voting privileges. Examples of protective provisions include:
Angels might retain ultimate control based upon their right to veto or block certain corporate actions. Accordingly, even if the Board of Directors and management team authorize a particular action, the consent to proceed may be incumbent on how the angel votes to proceed via their preferred stock.
The angel wants to see continued progress. You need to shine! Your angel may decide that you are the business' greatest obstacle to success. Angels could exercise protective provisions and use their voting privileges to remove you from the very company you created.
Ultimately, your biggest concern as the entrepreneur is to ensure you can get your company back! It is critical that an entrepreneur be informed about angel investing to make educated decisions when raising capital.

For more information, check out these links:
Richard Carter, PHD, is a full-time faculty member at Purdue Global. The views expressed in this article are solely those of the author and do not represent the view of Purdue Global.