Associate of Applied Science in Information Technology
Networking Concentration
Your Military Occupation Can Shorten Your Path to an IT Degree.
Purdue Global maps your military experience into the Associate of Applied Science in Information Technology, helping you achieve more, sooner. We provide you the skills to help you succeed in networking careers both inside and outside the military.*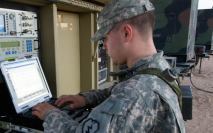 We believe your military training should give you a jumpstart on your education. We have evaluated various Signal Corps occupational specialties (MOSs) to help reduce the number of credits required to earn an Associate of Applied Science in Information Technology by as much as 66% depending on the skill level achieved (see table below).
Military Occupation

Credits Transferred

Credits Remaining

Courses Remaining


25 B Information Technology Specialists

25B10

36

36

7

25B20

32

32

6

25B30+

30

30

6


25N Nodal Network System Operator Maintainer

25N 10

35

55

11

25N 20

40

50

10

25N 30+

40

50

10


25Q Multichannel Transmission Systems Operator Maintainer

25Q 10

32

58

11

25Q 20

40

50

9

25Q 30+

43

47

9


25S SATCOM Systems Operator - Maintainer

25S 10

49

41

8

25S 20-30

52

38

7

25S 40+

57

33

6


25W Telecommunications Operations Chief

25 40+

60

30

6
Please note that credit awards listed below are based on the standard training provided to members in these occupations within the last 5 years. Some individuals may have had variations to that training, in which case the credit award may be different. If you completed this training and have not been in the occupation within the last 5 years the award may also vary. The applicable training must be shown on your Joint Services Transcript.
Don't see your occupation listed? You may still have training that can shorten your path to a degree. An advisor can help coordinate a review of your military transcript to determine if you are eligible for credit.
Associate of Applied Science in Information Technology
The Associate of Applied Science in Information Technology program is designed to provide you with the general education, applied knowledge, and technical and communication skills to pursue a range of entry-level positions in network administration, software programming, and web development.*
You'll have the opportunity to develop foundational skills to install and maintain computer networks, troubleshoot hardware and software problems, manage databases, and develop web pages.
Program Highlights
The curriculum emphasizes the following:
Foundational knowledge: Communicate and apply core information technologies in information technology professions
Client specifications: Analyze and offer verbal and written resolutions to technical issues faced by users and organizations
System specifications: Apply information technology methodology to evaluate, design, and implement systems
Technology analysis: Evaluate trends, practices, and products to determine their effectiveness for systems and users
Business analysis: Explain the impact of information systems and technology on business or economic processes
Professional development: Demonstrate the importance of professional development and continued education within the IT field
The networking concentration also provides instruction in:
Network Administration
Network Security
Networking with TCP/IP
What Are the Career Opportunities?
This degree is designed to prepare graduates to pursue entry-level employment in various areas within the information technology field. Upon completing the program, you may qualify to work as a project manager, program manager, or network administrator.* You can also focus on an area of study that best fits your career and educational goals.
What's Next?
After you have completed your degree, you can move into our Bachelor of Science in Information Technology, or choose from other bachelor's degree programs. Purdue Global also offers master's degree programs in information technology.