General Education Mobile (GEM) Program
GEM Courses are Taking Flight at Purdue Global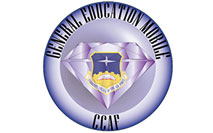 The General Education Mobile (GEM) program was designed to help U.S. Air Force members fulfill their general education requirements in a mobile, nontraditional classroom format. Completing the GEM program is a key step toward earning your associate's degree through the Community College of the Air Force.
Please note—if you would like to enroll in the GEM program at Purdue Global, you must first speak to an Admissions Advisor at 877-757-8188.
GEM can be completed with five online courses at Purdue Global. If you already have some college experience, the number of courses required may be reduced.
Each course corresponds to a general education area requirement for a degree.
GEM courses are taught 100% online.
Each term lasts 10 weeks.
You may take more than one course per term and complete the GEM program in less than 7 months.
Why Is GEM so Important?
General education courses are the foundation of your college studies. These courses prepare you for the degree-specific and higher-level courses you will need to earn your degree. The GEM program allows you to build that foundation, even if you can't attend classes in a traditional school setting.
After completing GEM, you can focus on earning credits within your specific discipline through additional college courses, training you have taken with CLEP and DANTES exams, and credits earned through your military work.
Other Courses to Support your CCAF Associate's Degree
We offer additional courses beyond the GEM program which may help you complete other elements of your CCAF associate's degree. Please check with your Air Force CCAF representative to determine if you need any of the courses offered. You can view the non-GEM courses offered in the curriculum table below.