Our Commitment to Military Students
Purdue Global supports our servicemembers, including Guard and Reserve, their spouses, and veterans. Learn more about our military college programs.
Our online format offers flexibility to help balance education with duty, family, and career.
The appearance of U.S. Department of Defense (DoD) visual information does not imply or constitute DoD endorsement.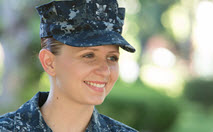 We support our military in the following ways:

Reduced tuition rates and fee waivers for military students
Participation in the Yellow Ribbon Program
Military-friendly change of orders withdrawal policy
Acceptance of military credits earned through DANTES/CLEP exams
Advisors specially trained to assist with military and VA benefits
Study While You Serve
We offer over 180 programs of study, most of which are 100% online. Undergraduate terms last 10 weeks and are structured so students take fewer subjects at a time, allowing for greater focus. Graduate terms last 6 to 10 weeks depending on the program.
New Classes Start Every Few Weeks
Purdue Global offers flexible deployment and leave of absence policies to accommodate the mobile lifestyle of servicemembers.
View the academic calendar for upcoming start dates.
Military Student Support Center
At each step of the student life cycle, Purdue Global has specially trained military advisors with the knowledge to assist military students with:
Transfer of military training and prior coursework
Assistance with military and VA benefits
Education advising
Career planning
Military Ombudsman—This team of military education specialists is available to assist military students with education-related issues at Purdue Global. They also serve as the primary point of contact for Educational Service Officers and Voluntary Education Coordinators for servicemember issues. They can be reached at 866-210-5233.
Military Student Finance Group—This team of student finance specialists is available to assist military students with finance-related issues regarding military education benefits, veterans benefits, or financial aid. They can be reached at 877-855-8648, or via email at Militaryfinance@purdueglobal.edu.
Voluntary Education Specialist's Relationship Manager—With extensive military experience, this office can provide support materials, create or participate in base educational events, and answer any questions you have about Purdue Global. For additional information call 866-583-4412 (Toll Free).
The Online Experience
Read more about learning online at Purdue Global and how this format is uniquely positioned to help military students pursue their higher education goals.
You can participate in online quizzes, seminars, and web field trips, while online discussion boards allow you to interact with fellow students and share ideas.