LRC100 is an open, self-paced course for learners who are interested in earning undergraduate credit for learning acquired outside of the classroom.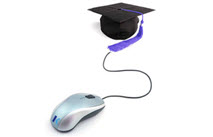 LRC100: Documenting Your Experiences for College Credit
LRC100 is a comprehensive course that guides you through the process of creating an experiential learning portfolio to showcase the knowledge you already possess. Because this course is offered in an "open" format, there is no cost for the course and no instructor.
While enrolled in this open learning course, you will have a mentor who will provide guidance and feedback on your portfolio development. Upon completion of the course, you can submit your portfolio to our faculty for an official credit evaluation.*
Credits awarded through LRC100 can be applied to one of Purdue Global's many undergraduate programs, meaning that you could graduate sooner than you think and save money on your degree.