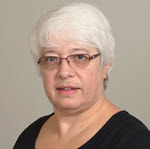 Shelly Lehmann
Shelly Lehmann joined Purdue Global (formerly Kaplan University) as a part-time faculty member in 2008 in the School of Nursing. In 2015, she moved into a full-time adjunct faculty position. Her primary responsibility with Purdue Global is to provide instruction to online students in the BSN, MSN, and NP courses.
Shelly brings a wide variety of nursing expertise in leadership and administration, gerontology, and nursing education. Prior to joining Purdue Global full time, she held a variety of positions which include but are not limited to family nurse practitioner, vice president of clinical services, corporate compliance officer, and director of nursing.
Shelly Lehmann is licensed in Ohio and Iowa as a registered nurse. She holds a post masters certificate from Kaplan University (now Purdue Global) with a focus on the family and a master's degree from Walden University with a concentration in nursing leadership and administration. She received her Bachelor of Science in Nursing from California State University, Fullerton, with a concentration in community health. She holds certifications from the American Nurses Credentialing Center in family nurse practitioner, nursing administration, advanced, and gerontology.