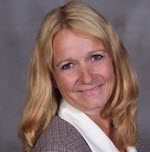 Kelley Madick
Kelley has been teaching at Purdue Global (formerly Kaplan University) in the School of Nursing RN-to-BSN program for eight years. She has taught several courses including Nursing Research, Assessment, and Nursing Theory. Currently, she is the course lead for Leadership and Management in Nursing and Healthcare Systems. Kelley is involved in several committees at Purdue Global including University Ethics committee, School of Nursing Assessment and Evaluation Committee, chair of the Faculty Scholarship and Development Committee, and governance chair for the Phi Rho Chapter of Sigma Theta Tau. She has also created and revised courses for Kaplan University (now Purdue Global) including a hybrid Mental Health Nursing Course and Leadership and Management in Nursing and Health Care Systems.
Kelley has worked as a psychiatric mental health nurse and nurse practitioner since 2004. She has been teaching nursing since 2010 in associate and bachelor nursing programs both online and on ground.
Kelley earned her Family Psychiatric Mental Health Nursing Certificate in 2008 from the University of Akron. She also received a Master of Science Degree in Nursing with a specialty in Education in 2006 from the University of Phoenix. Kelley earned her degree in nursing in 2004 from the Cleveland Clinic Huron School of Nursing.