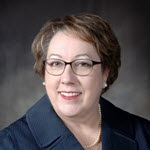 Amy Daly, PhD, RN
Dr. Daly joined Purdue Global (formerly Kaplan University) School of Nursing in 2009 as a Professor of Nursing in the RN-BSN program. In 2015, she assumed the position of DNP program lead, and she assists in providing leadership in designated program areas for the DNP Program focused on academic operations that support timely student matriculation to program completion. In addition to teaching responsibility, Dr. Daly ensures that educational needs of students are met and is accountable to the program according to the mission, strategic plan, policies, procedures, and agreements of the Purdue Global School of Nursing as well as the national accreditation and regulatory bodies. Dr. Daly serves as the nursing representative to Purdue Global's faculty senate, and is chair of the School of Nursing assessment and evaluation committee and the academic policies committee. She is the faculty liaison to the School of Nursing leadership council.
Dr. Daly has been in nursing education for over 26 years, teaching in associate's degree, bachelor's, and masters' degree nursing programs. In practice, she has worked in nursing administration, staff development, risk management, telephone triage, and community education. She has served on the board of directors of the American Red Cross in Mississippi and a state nursing organization. She currently serves as an on-site evaluator for the Commission on Collegiate Nursing Education (CCNE).
Dr. Daly completed her doctoral degree in nursing education and administration in 2014 from William Carey University. Her dissertation was titled, "A Comparison of the Organizational Sense of Belonging and the Impact of Mentorship of Full-Time and Adjunct Online Faculty." She graduated from Louisiana State University in 1982 with a Master of Science in Nursing in Nursing Administration. Her undergraduate degree was from William Carey College in 1976 where she earned a Bachelor of Science in Nursing degree.