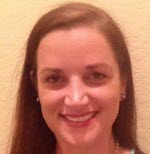 Leslie Young
Leslie Young is a faculty member in the nutrition department who has a great enthusiasm for working with and supporting student success in their future careers. Ms. Young frequently coordinates with other departments to provide pertinent degree and career path information to maximize student achievement.
Ms. Young has worked as a clinical dietitian in both hospital and home care environments. She has extensive training and expertise in nutrition support methods, and has been teaching college nutrition courses in both traditional and online environments since 2006. Her graduate research focused on the effect of childhood and adolescent obesity on the early development of type 2 diabetes. She is an active volunteer in her community in regards to nutrition education where she is a board member of a local parent-teacher association, writes columns for newsletters and provides presentations to help educate parents and teachers about the importance of proper childhood nutrition.
Ms. Young is a registered and licensed dietitian who holds a Master of Science in Human Nutrition from Winthrop University and a Bachelor of Science in Foods and Nutrition from Appalachian State University.