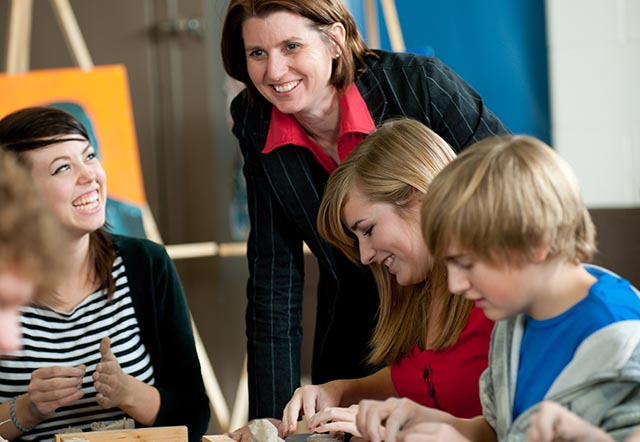 Master of Arts in Teaching—Iowa Certification
Teaching children during their formative years of adolescence is a challenge that can be personally and financially rewarding. In this profession you will serve as both mentor and coach—imparting academic knowledge and helping to shape students' views of their own self-worth and their roles in the world around them. If you are ready to experience the tremendous satisfaction that comes from preparing adolescents for the future, the Master of Arts in Teaching program at Purdue Global is designed to help you develop the necessary professional competencies to teach grades 5 through 12.
The Iowa certification track is designed for professionals living in the state of Iowa or close enough to be able to conduct weekly field experiences in an Iowa school. Candidates who successfully complete all program and graduation requirements will be recommended for Iowa licensure.*
Master of Arts in Teaching Program Highlights
This teacher certification program is based on national professional standards for beginning teachers. Through a unique combination of online coursework and practical teaching experience, you will have an opportunity to:
Explore the reflective decision-maker model and other research-based theories of learning with an emphasis on student diversity
Evaluate current issues in educational psychology and philosophical viewpoints that can affect teaching priorities and strategies
Develop skills for effective teaching, including designing curricula, organizing and managing a classroom, building literacy, and assessing secondary student learning
Complete a methods course to develop teaching proficiency in one of the following content areas: business or science
Expand to Learn More
Real-World Teaching Experience†
If you enroll in the Iowa certification track, you will complete a student teaching experience as the program's culminating experience. Student teachers will progress from observing classroom dynamics to leading small-group instruction to assuming full responsibility for the classroom. In addition, student teachers will have many opportunities to interact with professional mentors, supervisors, and colleagues as they refine their philosophy of education and develop proficiency in teaching.
Expand to Learn More
Prepare for Licensure
In Iowa, in order to meet the licensing requirements to teach grades 5 through 12, candidates must successfully complete the Master of Arts in Teaching coursework, 100 hours of fieldwork, a portfolio, and a supervised student teaching experience.
Expand to Learn More
Academic Alliances to Expand Your Teaching Opportunities
The College of Social and Behavioral Sciences is pleased to announce a partnership with Promise Opens Doors, an organization that offers an online certificate program for educators interested in working abroad and helping others learn English. Purdue Global graduates and current students can choose to enroll in Promise Opens Doors' Teaching English to Speakers of Other Languages (TESOL) Core Certificate Program (TCCP), a 4- to 6-month program that includes an online practicum with a real-time classroom in Asia. The certificate is recognized in certain states as fulfilling part of the certification requirements to teach English as a Foreign Language to students in the U.S. Note: this program is not included in the cost of Purdue Global tuition.
In addition, our alliance provides Promise Opens Doors students, alumni, and employees and their immediate family members with a tuition reduction on School of Education programs. Speak to an advisor to learn more.
Tuition reduction may not be combined with Purdue Global scholarships, grants, military tuition reductions, tuition vouchers, or other discounts or Tuition Cap or ExcelTrackTM pricing. Eligible family members include spouses, domestic partners, parents, siblings, and children.
Expand to Learn More
Higher Education at the Highest Standards
Purdue University Global is accredited by The Higher Learning Commission (HLC) and committed to the highest standards. Our specific programs hold additional industry-relevant approvals and accreditations.
What are the Career Opportunities?
The Bureau of Labor Statistics predicts that the increases in enrollment may result in job growth for kindergarten, elementary, and high school teachers through 2026.‡§ Purdue Global's Master of Arts in Teaching—Iowa Certification track is designed to help qualify you to work as an Iowa teacher in public secondary schools (grades 5 through 12).# Upon successful completion of the program, you could be eligible to pursue further doctorate-level studies.**
Request Info
What Courses Will I Take?
Our program focuses on helping you become versed in academic content, application and theory, assessment, professional responsibilities, and professional relationships. Courses include:
Research on Effective Teaching
Secondary Student Assessment
History and Philosophy of Education
Research on Effective Teaching
Educational Psychology
See All Teaching—Iowa Certification Courses
Can I Afford This?
Here are some of the ways we can help lower the cost of your tuition and help you graduate sooner.
Tuition and Fees
Tuition Rates
Select Your Options
Desired Track
Only one track is available for this program.
Enrollment Location:
Online, Rockville, Indiana, Missouri, Wisconsin
Iowa, Nebraska
Tuition Discount Options:
Select One
Active-Duty Military
Military Veteran
Military Spouse
International
Indiana Residents
Alumni
Online, Rockville, Indiana, Missouri, Wisconsin
$420.00
cost per credit
---
number of credits
Tuition does not include University fees and associated program fees. View tuition and fee information or contact an Admissions Advisor for more information.
Indiana resident military veterans: tuition for online undergraduate degree and certificate programs is $220.00 per quarter credit hour.
Gainful Employment Disclosures
Access gainful employment information, including program length, tuition costs, financing options, and success rates.††
View Disclosures
Helpful Information
Whether you are on your way up the corporate ladder or just getting started, our degree programs and certificates could help you prepare to take your career to a higher level.
View Brochures
NOTES AND CONDITIONS
*This program meets the educational requirements to obtain licensure as a teacher in Iowa. Students who successfully complete the Iowa certification track will be recommended to the Iowa Board of Educational Examiners for licensure; however, Purdue Global cannot guarantee a graduate will receive a teaching license. Purdue Global has not made a determination with respect to the licensure or certification requirements for any other states or occupations. Refer to the University Catalog for additional information.
†The teacher internship required to complete the Iowa certification track must be conducted in Iowa. Finding and obtaining an internship is the responsibility of the student. Contact us for more information.
#Purdue Global cannot guarantee employment or career advancement.
**The University cannot guarantee that students will be granted admission to any future programs.
††Purdue University acquired Kaplan University in March 2018 and created Purdue University Global, which is following the same curriculum format and instructional delivery methods as developed and used by Kaplan University. These disclosures are based on Kaplan University data reported prior to the acquisition.