Features and Facilities
Facilities Designed to Help You Learn
Discover the features and facilities of our Omaha, Nebraska campus and how we are here to support your educational goals.
The Omaha, Nebraska campus is located at 5425 North 103rd Street and occupies a 42,000 square-foot building that includes specialty built classrooms, computer and medical labs, student lounge facilities, and administrative offices. Our facilities are also partially accessible to persons with physical impairments.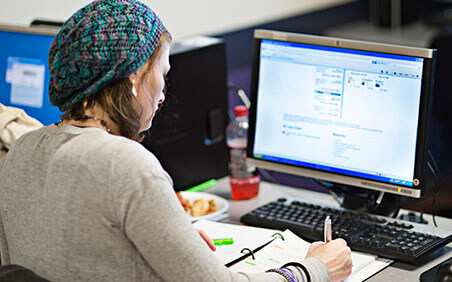 Facility Features
The campus boasts a learning resource center with access to a robust electronic library and small group or one-on-one tutoring. Our learning resource center contains a variety of current journals, publications, and other resources for research and general studies. In addition, students have access to additional library services through the State Open Access Program.
While on campus students can enjoy open door access to the campus Financial Aid Office, Student Accounts, Admissions, Student Support, and Career Services departments. Students can relax between classes in the student lounge, which features large windows with lots of sun, a big screen television, seating for 40, vending machines, and a community board.
Program Specific Labs
During lab sessions, students could receive hands-on training in medical, dental, nursing, criminal justice, and legal simulations labs. See below to learn more about our labs.
Medical Assisting Lab
During lab sessions, students will receive hands-on training in phlebotomy, injections, capillary punctures, EKG's, urinalysis, sterilization of instruments and much more.The medical assistant lab contains much of the equipment you would find in a general practitioner's office including exam tables, EKG machines, sphygmomanometers, an autoclave, urinalysis and cholestek machines, a microspin, centrifuge, and other various testing kits for glucose, hemoglobin, pregnancy, and streptococcus.
The students are held to the same standards as they would be in an actual office setting. The lab simulations encompass everything from assessing the chief complaint of the patient to obtaining vitals and running tests (depending on the simulation), to patient education and documentation.
Practical Nursing Lab
The nursing lab includes two practical, hands-on training labs where students have the opportunity to practice their skills using the clinical equipment listed below.
Manikins (6 adults—3 SIMS; 1 birthing SIM; 2 infants)
8 Hospital Beds, 2 Med Carts
Chest Tubes & Drains
IV Pump, IV Arms
Hoyer Lift, Slide Board
Blood Pressure Cuffs, Stethoscopes, Thermometers
Otoscopes, Opthalmoscopes, Ostomy Model
Denver Developmental Kits
Glucometer
Health Assessment Tools, Wound Care Models, Injection Models

Simulation Lab
Basic Care Lab - equipped with 8 beds and a variety of adult and infant manikins. Each bed site has wall connections for O2 and suction, and connections for a PC. Attached to the lab is a lavatory, a medication preparation area with sink, cabinets, and room for a mobile medication cart.
Simulation Lab - In this lab, you'll use the Laerdal SimMan®. Purdue Global has 3 low-fidelity adult manikins that breathe, speak, and have realistic lung, heart and bowel sounds. "Noelle," a pregnant manikin, is also a part of the simulation experience. Noelle can give birth and simulate obstetric complications. By using simulators in place of human patients, students no longer have to rely on clinical rotations to gain all their experience. Simulations also give students the chance to learn how to communicate with other health care providers such as medical staff, ancillary personnel, and family members.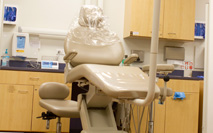 Dental Assisting Lab
The lab can accommodate hands on learning for up to 15 students at one time and contains 4 fully functional dental operatories with x-ray units which are used by the radiology classes, 5 Dexter manikins for exposing radiographs, and 4 manikins to practice dental procedures on. In the Dental Materials class students take impressions and make casts in the lab. Students are held to the same standards as they would be in an actual office setting.

Criminal Justice Labs
Legal Studies and Criminal Justice Labs
The department is equipped with 3 different labs that collaborate to provide a well-rounded, hands-on experience for our students.
Johnny Justice's Residence (aka the Crime Lab)
Configured to represent a dorm room or studio apartment complete with bed, couch, entertainment center, recliner, desk, and kitchenette
Residence for our mannequin, Johnny Justice
Used primarily for mock crime scenes and skills training in crime scene sketching, photography, and fingerprinting
Also used for constitutional searches and seizures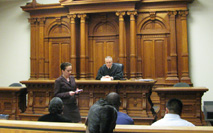 Mock Trial Lab
Legal Education Lab (aka Dedicated Classroom)
Used for DNA collection, evidence collection, and mock trial preparations
Mock trials are held offsite in an actual courtroom
Firearm Training Room (aka FATS Lab)
Firearm simulator used as a supplemental learning resource
Judgmental trainer used to reinforce legal education concepts and theories
Weapons Labs held each term cover the topics of justified use of force for civilians and gun safety
Local agencies use the lab for their training purposes