About Omaha Campus
Take Control of Your Future
What makes Purdue Global special is our focus on your future. Our Omaha, Nebraska campus provides hands-on training in career-oriented programs taught by instructors who can offer you professional knowledge you won't find in most textbooks. You could graduate with the skills you need to stand out in today's competitive job market.
Instructors With Professional Experience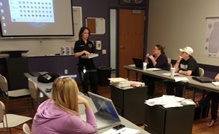 Our faculty and student body form a dynamic learning setting, and our present facilities offer industry-related technology that you may encounter in the workplace. Our laboratories and other facilities complement your learning environment for better career preparation. Instructors with real-world experience lead your classes. They can impart inside knowledge you need to succeed in today's job market.




Programs and Activities
Providing students with a dynamic, stimulating on-campus and virtual learning experience is part of Purdue Global's ongoing commitment to excellence. Here's just a sample of what's happening:
Student clubs focused on professional development and enrichment through guest speakers, community volunteering activities, peer mentoring, and University resource support seminars
Student recognition events celebrating Dean's and President's List achievements, as well as other special student awards such as outstanding civic, scholarly, or professional contributions as a student
Student-centered help groups to include program- and content-specific tutoring and academic success and stress-management tips
Omaha, Nebraska Campus Location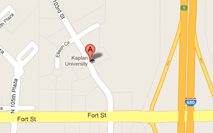 Omaha is the largest city in the state of Nebraska. The city's developments in the past decade have strengthened its economic contribution to the state with several billion dollars of new construction. Recent projects include the Qwest Center Omaha arena/convention center complex, Holland Performing Arts Center, River City Star riverboat landing, the National Park Service Midwest Region headquarters, and new high-rise towers for the headquarters of First National Bank of Omaha and Union Pacific Railroad, along with hundreds of condominium units. Job opportunities in Nebraska are growing as these new developments progress making Omaha a great city for your future career.

5425 North 103rd Street
Omaha, NE 68134
Tel: 402-431-6100
Tel: 800-987-7734

Career Services at Purdue Global
Your success is important to us, so our Career Services department is readily available to assist you with your individual career planning.We also provide guidance in any of our offered career programs.
Your success beyond the classroom is important to us. We offer individual career planning and assessments to help you craft the most effective employment search strategies. Learn to write effective cover letters and resumes and sharpen your interviewing skills so that you can make a favorable first impression with prospective employers. We can also guide you in identifying job openings by using local newspaper classified ads and by searching the Internet.
Ongoing Career Services
We offer services such as professional development training and career planning resources and assistance. Even after you are employed, you may contact the school for assistance with updating resumes and use the resources available in the Career Services Department.
Part-Time Jobs
Many students work on a part-time basis during school to help finance their education. If you require assistance in securing part-time employment while attending classes, the Career Services Department will make every effort to assist you in your search.