Features and Facilities
Discover the features and facilities of our Mason City, Iowa location and how we are here to support your educational goals.
The location consists of 15,000 square feet of specially built classrooms, numerous computer and medical labs, spacious student lounge facilities, and administrative offices. Conveniently located on the town's west side, our facilities are partially accessible to persons with physical impairments.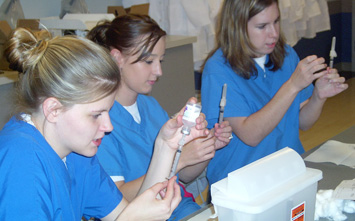 Computer Rooms
The computer labs can accommodate approximately 25 students. Students are free to use the labs any time the location is open, as long as they are not being used for classes. In addition, the Student Success Center has computers for student use.
Student Success Center
The Student Success Center is designed to support and enhance your education in all aspects of our curriculum. Students have access to research assistance from academic staff and tutors, wireless connectivity, downloadable audio and electronic books, and computer workstations with access to an extensive collection of electronic subscription databases. The Student Success Center is also a place where students can congregate and socialize throughout the school day. It provides access to comfortable furniture and a television for students to relax.
Program-Specific Labs
Firearms Training Room
The atmosphere of the room offers a great simulation of actual police interaction with the public, including flashing lights, the sound of firearms, verbal interactions with the public, and the verbal commands from the officer during training. The training room has a ceiling-mounted FATS machine with a 16' x 8' screen. There are two Glock 17 handgun simulators and two OC spray simulators, as well as a portable speaker system, a police rooftop flashers unit, and CO2 tanks for the guns (to provide life-like recoil).
Medical Facilities
Our medical labs have the tools you need to gain hands-on experience in clinical procedures commonly performed in medical offices. Purdue Global's medical assisting labs include:
Examination tables and equipment
Phlebotomy drawing stations
EKG machines
Medical supplies
Hospital beds
Equipment needed for blood draws, centrifuge, microscopes, stethoscopes, blood pressure cuffs
Tutoring Services
Tutoring services are available, free of charge, to students needing additional academic support.