Instructors With Professional Experience
Our faculty and student body form a dynamic learning setting, and our present facilities offer industry-related technology that you may encounter in the workplace. Our laboratories and other facilities complement your learning environment for better career preparation. Instructors with real-world experience lead your classes. They can impart inside knowledge you need to succeed in today's job market.
Part of the Community
The Mason City campus supports a variety of community organizations. Our students and employees participate in fundraisers and volunteer with grant-writing committees, community-improvement groups, and more. We participate in the following charitable events:
Sponsor of Band Festival Parade
Blue Zone Worksite Sponsor
Local Youth Sporting Sponsor
Habitat For Humanity (spend time each year on one of their houses)
Local Food Pantry Drives
Our memberships include:
Mason City Chamber of Commerce
Clear Lake Chamber of Commerce
Rochester Chamber of Commerce
Austin Chamber of Commerce
North Iowa Corridor Economic Development
Main Street Mason City
Rotary
Kiwanis
Human Resources of North Iowa Association
Mason City, Iowa Campus Location
Mason City, the original "River City," has a long history and a bright future. For years, residents have enjoyed the quality of life of a small-town atmosphere, while reaping the benefits of cities much larger in size. Our campus is surrounded by great restaurants, shopping plazas, and banking establishments. Mason City is also the center of activity for North Iowa, where parks, trails, aquatic center, and the MacNider Art Museum all reside. Schedule a tour of Purdue Global in Mason City, and see why it is an ideal place to start your new career.
2570 Fourth Street, SW
Mason City, IA 50401
Tel: 800-987-7734
Tel: 641-423-2530
Programs and Activities
Providing students with a dynamic, stimulating on-campus experience is part of Purdue Global's ongoing commitment to excellence. Here's just a sample of what's happening:
Mason City campus events
Weekly tutor-led study session via Adobe Connect
Award-recognition bulletin board
Student services survey to identify campus-related improvements
Resource packet that includes student FAQs as well as time management and study tips
Financial literacy services
Campus newsletter
Career Services at Purdue Global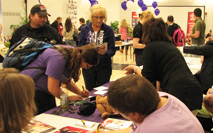 Your success is important to us, so our Career Services department is readily available to assist you with your individual career planning. We also provide guidance in any of our offered career programs.
Your success beyond the classroom is important to us. We offer individual career planning and assessments to help you craft the most effective employment search strategies. Learn to write effective cover letters and resumes and sharpen your interviewing skills so that you can make a favorable first impression with prospective employers. We can also guide you in identifying job openings and opportunities through networking, volunteering, and using job search skills with resources such as the newspaper and job posting websites.
Ongoing Career Services
We offer services such as professional development training and career planning resources and assistance. Even after you are employed, you may contact the school for assistance with updating resumes and use the resources available in the Career Services department.
Part-Time Jobs
Many students work on a part-time basis during school to help finance their education. If you require assistance in securing part-time employment while attending classes, the Career Services department will make every effort to assist you in your search.