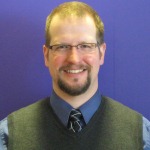 Timothy Scholl
Born and raised in Indiana, Timothy W. Scholl comes to Purdue Global most recently from Minneapolis, MN where he served as the dean of education at Brown College. With nine years of progressive academic leadership experience, Timothy brings an array of expertise to Purdue Global with expertise in academic strategic planning, outcomes assessment, new program development and accreditation. Previously, Timothy served as the associate dean of education and the program director for general education at Brooks Institute in Santa Barbara, CA. He is also a former faculty member at the University of California Santa Barbara, the University of Judaism and Brooks Institute of Photography.

Timothy earned his bachelor's degree in theatre from the University of Evansville, in Evansville, IN and his master's in theatre history from the University of Nebraska, Lincoln. He completed his doctoral coursework in theatre history and dramatic literature at the University of California Santa Barbara. Timothy specializes in the German theatre and drama with a particular emphasis on German theatre production in Berlin after 1945.

Timothy resides in Lincoln, NE with his spouse and two children.