Features and Facilities
Facilities Designed to Help You Learn
Discover the features and facilities of our Lincoln, Nebraska campus and how we are here to support your educational goals.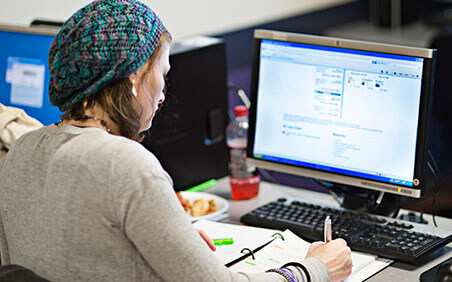 On-campus Facilities
The Lincoln campus consists of specialty built classrooms, computer and medical labs, student lounge facilities, and administrative offices. Conveniently located near business and cultural activities, our facilities are partially accessible to persons with physical impairments.
Additional Facilities
The campus also has a learning resource center and Financial Aid, Student Accounts, and Admissions departments. Our on-campus learning resource center contains a variety of journals, publications, and other resources for research and general studies. In addition, students are able to have additional access through the State Open Access Program. The student lounge is located on the second floor of the 57,000 square foot facility that was completed in 2009.
Classroom Equipment
The Lincoln campus has 8 computer labs and 286 computers on-campus that are available for student use. All classrooms are equipped with ceiling-mounted overhead projectors and computers.
Program Specific Labs
Nursing Lab
The upcoming construction on the nursing lab will renovate the existing lab to accommodate two new state-of-the-art simulation suites in addition to the five hospital bays. The simulation suites will house two high-fidelity human simulators—one Sim Man Essential and a Noelle birthing simulator. The simulators have the ability to simulate realistic human symptoms and conditions, including blinking, sweating, heart rates, blood pressures, moaning, and crying. Our Noelle birthing simulator will also simulate childbirth. The hospital bays in the rest of the lab will house additional mid-fidelity human simulators, which have some of the same features as the high-fidelity simulators in their ability to have heart rates and blood pressures. All simulators and laboratory equipment will be used to provide students with realistic patient care experiences in controlled learning environments.
Criminal Justice Lab
The Firearm Training Simulator (FATS) room has a multitude of firearm simulation scenarios that are created for the HD screen. The system is used to help students learn judgmental decision making skills, recollection of events, and report writing. The campus also has a dedicated Criminal investigation (CI) room with hands-on skills exercises including latent fingerprinting, trace evidence collection, blood spatter analysis, foot and tire casting, and many more field type experiences.