Opening the Door to Your New Career
Welcome to Purdue Global where we strive to provide learning opportunities at many levels, from diplomas to bachelor degrees—all at one institution. We have a variety of programs for you to choose from in many areas, including the business, legal, medical, and travel industries. Explore Purdue Global in Lincoln, Nebraska and see what a college education can mean for your future.
Instructors with Professional Experience
Our faculty and student body form a dynamic learning setting, and our present facilities offer industry-related technology that you may encounter in the workplace. Our laboratories and other facilities complement your learning environment for better career preparation. Instructors with real-world experience lead your classes. They can impart inside knowledge you need to succeed in today's job market.
Programs and Activities
Providing students with a dynamic, stimulating on-campus experience is part of Purdue Global's ongoing commitment to excellence. Here's just a sample of what's happening:
Student Advisor Program: Student leaders assist the Admissions Department and Student Services with college activities and events, orientations, and the graduation ceremony. Members are elected to their positions by their peers. They possess good communication skills, demonstrate positive attitudes, and are willing to help others.

Campus Activities: A wide variety of academic and social activities are held throughout the year, including:
Fire Arms Training Simulator (FATS) demonstrations
Health and Wellness Fairs
Open houses
Summer BBQ
Lincoln, Nebraska Campus Location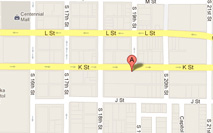 Lincoln, Nebraska is the second most populated city in Nebraska. Since it is the state capital, many Nebraska state agencies are located in the city, as well as several United States government agencies and offices. This makes Lincoln an attractive choice for student and graduate job opportunities. Conveniently located, Lincoln is only one day's drive from neighboring major cities such as Chicago, Minneapolis, Kansas City, St. Louis and Denver. The city is rich in culture and history, and the nature lover will enjoy lovely parks, golf courses, and trails.

1821 K Street
Lincoln, NE 68508
Tel: 402-474-5315
Tel: 800-987-7734
Career Services at Purdue Global
Your success is important to us, so our Career Services department is readily available to assist you with your individual career planning. We also provide guidance in any of our offered career programs.
Your success beyond the classroom is important to us. We offer individual career planning and assessments to help you craft the most effective employment search strategies. Learn to write effective cover letters and resumes and sharpen your interviewing skills so that you can make a favorable first impression with prospective employers. We can also guide you in identifying job openings by using local newspaper classified ads and by searching the Internet.
Ongoing Career Services
We offer services such as professional development training and career planning resources and assistance. Even after you are employed, you may contact the school for assistance with updating resumes and use the resources available in the Career Services department.
Part-Time Jobs
Many students work on a part-time basis during school to help finance their education. If you require assistance in securing part-time employment while attending classes, the Career Services department will make every effort to assist you in your search.