Congratulations to all of our graduates and to those dedicated family, friends, and faculty who helped them cross the finish line!
Student Testimonial–Joe Amoral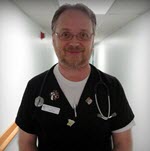 In 2012, my long retail career ended, and I was faced with a decision to continue on, or start something new. Purdue Global [formerly Kaplan University] became the agent of change in my new life. I thought about which direction I wanted to head, and I knew I wanted to make a difference in peoples' lives. Health care became my ultimate choice and I started down the path to becoming a medical assistant, with an ultimate aim of becoming a registered nurse. I quickly found out, I was going to love health care, and the exemplary instructors instilled in me a sense of discovery and a renewed love of learning, which had laid dormant for many years.
With the support of advisers, instructors, and all the support staff in Lewiston, Maine, I finished with many honors (Dean's award and President's Cup), and immediately started working as a medical assistant in the clinic where I did my internship.
Once this was accomplished I set my sights on nursing school through the location in Augusta, Maine. The faculty and staff again allowed me to excel and become a leader, even among nursing cohorts before and after me. All the while, through both MA and nursing school, I was able to become a student tutor, which sparked a love of teaching inside me. I eventually finished nursing school, took my NCLEX exam, passed on the first try, and am now a practicing RN. The knowledge and information I developed gave me fully prepared me for all of these exciting life changes.
As if all of this wasn't enough, about a year before I finished nursing school, I was approached about possibly becoming an adjunct professor in the Health Sciences department. The training, guidance, and mentorship, and all the many professionals I encountered along the way, has now given way to me officially being an adjunct professor in the Health Sciences department, and my love for teaching is only increasing. And as if this wasn't enough, I am taking this love of educating, and am now enrolled in Master of Science in Nursing program.
I cannot express deeply or strongly enough what the University has meant or done for me. My life has drastically altered in a positive way.
This testimonial was solicited by Kaplan University. Purdue University acquired Kaplan University in March 2018 and created Purdue University Global, which is following the same curriculum format and instructional delivery methods as developed and used by Kaplan University. Views and opinions stated herein are the individual's and not necessarily those of Kaplan University. Individual student experiences may vary. The program referenced in this advertisement is designed to teach students certain skills that could be used in connection with the position stated, but does not qualify students to apply for that position. Purdue Global cannot guarantee employment or career advancement. Additional training or certification may be required.