About Lewiston Campus
Personal Feel, Practical Education
Our faculty and student body form a dynamic learning setting, and our facilities offer industry-related technology that you may encounter in the workplace. Laboratories and other facilities complement the learning environment for better career preparation.
Instructors with real-world experience lead your classes and are well-qualified, trained, and supportive of your needs. Our faculty can impart knowledge relevant to today's job market. Both our faculty and staff are here to assist you on your path to pursuing your career. From the moment you decide to enroll in Purdue Global, you will be matched with an Advisor who will support you throughout your college experience.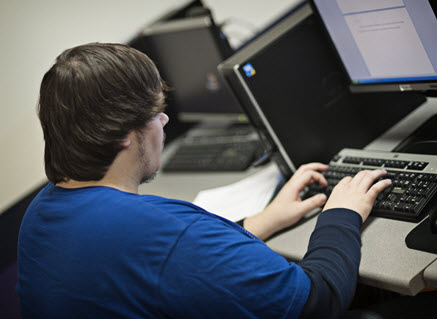 Convenient Scheduling
Classes at the Lewiston campus begin every 10 weeks, so you can complete your education in less time. Our flexible class schedules provide the opportunity to balance the demands of work and home. Plus, we offer online courses, allowing you to access class virtually anywhere you have an Internet connection.
Programs and Activities
The Lewiston campus supports a wide variety of community foundations and organizations. These include the Androscoggin County Chamber of Commerce, the Auburn Business Association, the Lewiston-Auburn Rotary Club, the Central Maine Human Resource Association, College for ME-Androscoggin, the United Way, and Business Networking International, among many others.
Providing students with a dynamic, stimulating on-campus experience is part of Purdue Global's ongoing commitment to excellence. Here's just a sample of what's happening:

Student Leader Program: Student leaders assist the Admissions Department and Student Services with college activities and events, orientations, the annual awards banquet, and the graduation ceremony. Members have GPAs of 3.0 or above, possess good communication skills, demonstrate positive attitudes, and are willing to help others.

Campus Activities: A wide variety of academic and social activities are held throughout the year, including:
Theme-based registration tables
Summer BBQ and holiday celebrations
Twice-yearly blood drives
Career Services at Purdue Global
Your success is important to us, so our Career Services Department is readily available to assist you with your individual career planning. We also provide guidance in any of our offered career programs and assist in program externship placements.
Your success beyond the classroom is important to us. We offer individual career planning and assessments to help you craft the most effective employment search strategies. Learn to write effective cover letters and resumes and sharpen your interviewing skills so that you can make a favorable first impression with prospective employers. We can also guide you in identifying job openings by using local newspaper classified ads and by searching the Internet.
Ongoing Career Services
We offer services such as professional development training and career planning resources and assistance. Even after you are employed, you may contact the school for assistance with updating resumes and use the resources available in the Career Services department.
Part-Time Jobs
Many students work on a part-time basis during school to help finance their education. If you require assistance in securing part-time employment while attending classes, the Career Services department will make every effort to assist you in your search.
Lewiston, Maine Campus Location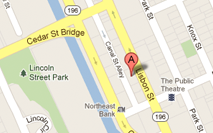 When you attend Purdue Global in Lewiston, Maine, you get a convenient location that is close to major highways such as Route 202, Route 4, and the Maine Turnpike. We are located in the southern gateway district of downtown Lewiston near the Public Theatre, Oxford Networks, and Northeast Bank. There is an abundance of parking nearby in the city garage, Purdue Global parking lot, and various other locations. The campus also offers career services and facilities, including medical and computer labs.

475 Lisbon Street
Lewiston, ME 04240
Tel: 207-333-3300
Fax: 800-791-1803
Tel: 800-987-7734
NOTES AND CONDITIONS
*This testimonial was solicited by Kaplan University. Purdue University acquired Kaplan University in March 2018 and created Purdue University Global, which is following the same curriculum format and instructional delivery methods as developed and used by Kaplan University. Views and opinions stated herein are the individual's and not necessarily those of Kaplan University. Individual student experiences may vary. The program referenced in this advertisement is designed to teach students certain skills that could be used in connection with the position stated, but does not qualify students to apply for that position. Purdue Global cannot guarantee employment or career advancement. Additional training or certification may be required.